Hello, and welcome to the Anthropocene section of my blog.
So what is the Anthropocene? Are we really in a new geologic epoch where humans master the planet, or is this just the latest anthropocentric delusion dressed up in new clothing? What does this idea have to do with earlier claims about the rise of "post-natural" or "post-environmental" politics and the "end of nature"? The answers depend on how you understand these terms and your own political orientation. But before all that, here's some of basics on the Anthropocene.
If you're wondering what this page is all about, you can read more here.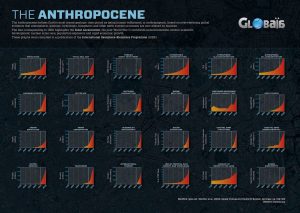 Background
The Anthropocene is the name for a new geologic epoch which was originally proposed by Paul Crutzen and Eugene Stoermer in the IGBP's Global Change newsletter in 2000 in an article simply called "The Anthropocene." In this article Crutzen and Stoermer proposed that due to a vast and growing impacts of humans to the planet we have become a force on par with geologic change and forces, and this fact warranted the creation of a new geologic epoch to signal this new relation. They suggested that a good starting point was around 1800, the point in time when our relationship with Carbon began to increase significantly. Here's an excerpt from their piece about just how big an impact humans are now having on the planet, which is preceded by a long list of human impacts to the land, air, water, soil, atmosphere, communities and ecosystems:
Considering these and many other major and still growing impacts of human activities on earth and atmosphere, and at all, including global, scales, it seems to us more than appropriate to emphasize the central role of mankind in geology and ecology by proposing to use the term "anthropocene" for the current geological epoch…To assign a more specific date to the onset of the "anthropocene" seems somewhat arbitrary, but we propose the latter part of the 18th century…because, during the past two centuries, the global effects of human activities have become clearly noticeable. This is the period when data retrieved from glacial ice cores show the beginning of a growth in the atmospheric concentrations of several "greenhouse gases", in particular CO2 and CH4. Such a starting date also coincides with James Watt´s invention of the steam engine in 1784…[and]…biotic assemblages in most lakes began to show large changes.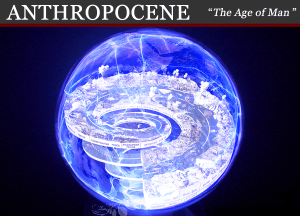 So in short, we should call an end to the Holocene, our current geologic epoch, and herald in the emergence of this new epoch, the Anthropocene. You can get some of more background on this topic from a 2008 GSA article titled "Are We Now Living in the Anthropocene?" As of early 2016 the Anthropocene Working Group within the International Commission on Stratigraphy (ICS), the folks who make the final determination on geologic dating, suggested there is a good case for the Anthropocene. In their Science article "The Anthropocene is functionally and stratigraphically distinct from the Holocene," they suggest that the mid 1950s, sometime around the testing of the first nuclear bomb and the rise of stuff like plastic, would be a likely starting point. Here's an excerpt from this piece.
Recent anthropogenic deposits contain new minerals and rock types, reflecting rapid global dissemination of novel materials including elemental aluminum, concrete, and plastics that form abundant, rapidly evolving "technofossils." Fossil fuel combustion has disseminated black carbon, inorganic ash spheres, and spherical carbonaceous particles worldwide, with a near-synchronous global increase around 1950. Anthropogenic sedimentary fluxes have intensified, including enhanced erosion caused by deforestation and road construction. Widespread sediment retention behind dams has amplified delta subsidence.

Geochemical signatures include elevated levels of polyaromatic hydrocarbons, polychlorinated biphenyls, and pesticide residues, as well as increased 207/206Pb ratios from leaded gasoline, starting between ~1945 and 1950. Soil nitrogen and phosphorus inventories have doubled in the past century because of increased fertilizer use, generating widespread signatures in lake strata and nitrate levels in Greenland ice that are higher than at any time during the previous 100,000 years.
Originally the IGBP and others had put together a great beginner resource on the science behind the Anthropocene, which you can check out at www.anthropocene.info. With the closing at the end of 2015 of the IGBP project, a lot of their work is now moving to Future Earth, which will be the new home for a lot of the current Earth System science and Earth System Governance work they were supporting. Some of that same content can be found on the Globaïa site here. And not too long ago Elsevier started publishing an official Anthropocene Journal here, which is definitely worth checking out for anyone writing about or studying the Anthropocene.
'Welcome to the Anthropocene' Earth Animation from Globaïa on Vimeo.
This is the animation done by Globaïa for the short film 'Welcome to the Anthropocene' commissioned for the Planet Under Pressure conference. The film charts the growth of humanity into a global force on an equivalent scale to major geological processes. The film is part of the world's first educational web portal on the Anthropocene.
Some other intro sources include this Economist piece: The Anthropocene: A man-made world, this Nature article titled Anthropocene: The Human Age, as well as some of Andrew Revkin's coverage on the Dot Earth blog at the New York Times. However I must add a short political disclaimer here, since I find the line of techno-utopian Anthropocene thinking that Revkin and the "Breakthrough Boys" advocate both politically suspect and ecologically dangerous. They prefer to call it "eco-modernism." However, Revkin has given the topic a lot of air time, so he is one source to follow these debates.
Here is a talk I gave in the spring of 2013 at the Western Political Science Association (WPSA) conference in Hollywood on the Anthropocene. You can find the conference paper and details here.
Below you can find all of my posts on this topic to date:
[Breaking News Addition: Nebraska farmers and ranchers pack Keystone hearing- demand project be stopped!] While teaching a lesson today on the…
---
About this page
I am a PhD student currently finishing a dissertation on the Anthropocene, land rights and new forms of popular resistance that merge social and ecological justice concerns. This page is a temporary starting point for some of my engagements with the Anthropocene. I am in the early stages of building a fully dedicated Anthropocene research site–anthropocenepolitics.com–which I hoped to launch in 2016, but dissertation demands have pushed that date back, so stay tuned.
Until I have more time to work on that project, I am using this area to maintain my ongoing work.