Making Monsters – A Genealogy of Elliot Rodger and His Twisted World
(Trigger Warning!!! more| Updated) Before I begin, let me frame this piece briefly. I wrote this after spending the Memorial Day weekend trying to unravel the story of Elliot Rodger–his past, his actions, his entire 130+ page manifesto, called My Twisted World, and the ideology and experiences he claimed made him who he was. I can honestly say, without a shred of doubt, that he was a deeply disturbed and dangerous person, and parts of his manifesto are even more horrific than I could have imagined. If society is to learn anything from this incident, we must look beyond Elliot Rodger the person, and look into what forces molded a person who could make a statement like the following:
"In order to completely abolish sex, women themselves would have to be abolished. All women must be quarantined like the plague they are, so that they can be used in a manner that actually benefits a civilized society. In order [to] carry this out, there must exist a new and powerful type of government, under the control of one divine ruler, such as myself…The first strike against women will be to quarantine all of them in concentration camps. At these camps, the vast majority of the female population will be deliberately starved to death. That would be an efficient and fitting way to kill them all off. I would take great pleasure and satisfaction in condemning every single woman on earth to starve to death. I would have an enormous tower built just for myself, where I can oversee the entire concentration camp and gleefully watch them all die. If I can't have them, no one will, I'd imagine thinking to myself as I oversee this. Women represent everything that is unfair with this world, and in order to make the world a fair place, they must all be eradicated…A few women would be spared, however, for the sake of reproduction. These women would be kept and bred in secret labs…Future generations of men would be oblivious to these remaining women's existence, and that is for the best…the only way to purify the world…I am the true victim in all of this."
Such statements of hate must be publicly attacked without remorse. When ignored, the end result of such logic has been Nazism, Fascism, genocide and mass murder. While there is no doubt in my mind that Elliot Rodger had many deeply troubling experiences growing up, none of them remotely justify his acts. But what did create the monster that he became? In the following extended post, I offer a genealogy of the events and ideological developments that led to this tragic end. While it is neither light nor easy reading, I believe it is essential to understand what motivated him, and more importantly, to show the systemic nature and sources that created him in the first place. For only by understanding the entire story can we hope to intervene and prevent another Elliot Rodger before they are born.
The Basic Story
Since there's no good place to start a post like this, let's just start with what we know. A 22-year old, mentally unstable rich-boy named Elliot Rodger executed six people by the end of Friday night (5/23) in the elite Isla Vista area of the University of California, Santa Barbara before himself dying of a self-inflicted gunshot wound to the head. It now appears that 3 bodies were found in Rodger's Capri Apartment building on Seville Road, with two victims being his roommates. Weihan Wang, George Chen, and Cheng Yuan Hong were killed in Rodger's apartment, while the other victims, Katie Cooper, Chris Michael-Martinez, Veronica Weiss, were killed during his shooting spree.
In what has been described variously as "surreal," "Wild West" and "disturbing," Rodger drove a black BMW through a several block area near the UCSB campus, spraying bullets from one or more semi-automatic handguns at various groups or individuals, with the main target seeming to be young college women. From the latest reports of the additional bodies found in his apartment, those appear to have been stabbed to death sometime earlier. Finally, these acts were both announced in a video called "Elliot Rodger's Retribution" (trigger warning) and in a copy of his 140 page My Twisted World [pdf] manifesto (trigger warning), where he describes his life, ideology and plans to carry out these murders. Rodger writes in his manifesto that: "On the day before the Day of Retribution, I will start the First Phase of my vengeance: Silently killing as many people as I can around Isla Vista by luring them into my apartment through some form of trickery." This appears to be exactly what he then did.
Who was Elliot Rodger?
Elliot was born in the UK to a British father and Chinese/Malaysian mother, and spent his first five years in the UK. When he was five the family moved to their present home in California. His parents were together until he turned seven, at which point they were divorced, and in short order his father remarried his current wife. So Elliot grew up as the son/stepson of two famous California parents, photographer and filmmaker Peter Rodger (son of renown Magnum Photos co-founder George Rodger) and Soumaya Akaaboune, a French actress of Moroccan descent, who starred in Green Zone (2010), Playing for Keeps (2012) and Lovelace (2013). Her latest role was in the French spin off series Les Vraies Housewives (Real Housewives), which is aptly described as "basically French women who live in Beverly Hills." Elliot had one younger sister from his biological mother, and a younger step-brother from his father's marriage with Akaaboune. We know that Elliot was a Santa Barbara City College student, an infrequent YouTube contributor, a car enthusiast, and a self-described lonely virgin and alpha male gentleman who was obsessed with the Men's Rights Movement and how short and physically weak he was growing up. As he wrote on one of his website profiles, "I consider myself a sophisticated, polite gentleman, unlike most boys my age."
While in some ways this is a story about one person, Elliot Rodger, in many ways it is also a story about the social problems that he personifies. One of these problems is affluenza, "a painful, contagious, socially transmitted condition of overload, debt, anxiety, and waste resulting from the dogged pursuit of more." To affluenza we must add a deep and bitter misogynistic worldview that saw women as hated objects to serve male desires. Building on both of these was a deep and abiding misanthropic outlook on life, partly linked to a life of childhood bullying. All of this stewed and churned in his heart in the underlying West Coast, Hollywood affluence he grew up idolizing. Above and beyond his immediate childhood experiences was a particular hypermasculine culture that is linked to gun violence and the idealization of physical prowess as a social signifier. To understand how Elliot Rodger came to see the world the way he did, we need to explore these various threads.
The Roots of Evil
This incident is yet one more in a long string of gun-related violent deaths plaguing this country, proving once again that the machismo gun culture of the US (and elsewhere) needs to be confronted much more forcefully than it has to date. Before the inevitable homophobic, NRA defending circle-jerking starts, let's be clear. My point is not that all guns are bad and therefore should be outlawed. Rather, the problem is more complicated, and involves the type of guns people can easily purchase, the level of training and safety that goes with ownership, and the fact a significant number of people prefer to use guns for murder, rather than legitimate things like hunting, target practice and self defense.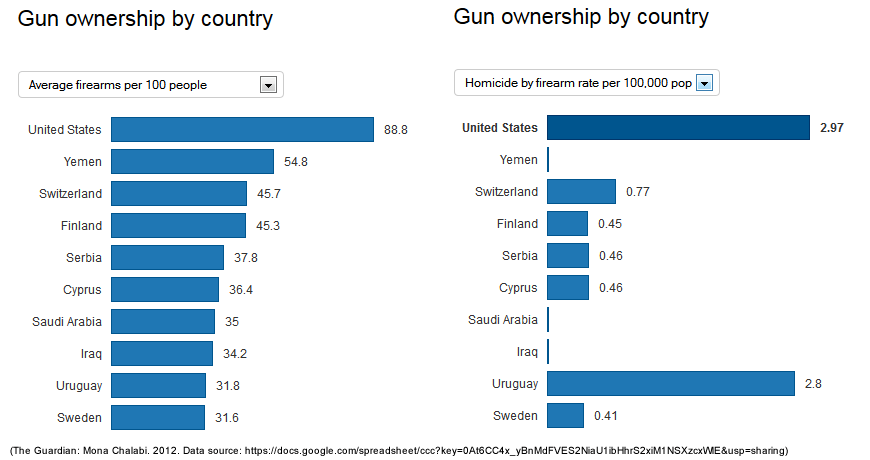 The fact that the US has a gun problem is pretty much beyond dispute, unless you live in NRAville, as the above Guardian chart makes pretty clear. Lots of people with guns is one thing (Yemen), lots of people killing each other with guns is quite another (US). If you're not certain about this, just watch any of the dozens of Vice specials on guns in America to get the point–for example Gun Crazy USA. The fact that Rodger had several semi-automatic handguns designed for extended magazines is one more example of this problem. Despite what people like Rabbi Dovid Bendory might claim, we really don't need high capacity magazines.
Rodger's describes his initial reaction to shooting a handgun in a range as disgust, but when he eventually decides to purchase his first gun (the Glock 34) in the fall of 2012 his attitude has changed. "After I picked up the handgun, I brought it back to my room and felt a new sense of power. I was now armed. Who's the alpha male now, bitches? I thought to myself, regarding all of the girls who've looked down on me in the past." This is precisely the logic of hypermasculinity that fuels gun violence–with a gun even a coward like Elliot Rodger can pretend they are powerful. By the spring of 2013 he purchased his second gun, noting that his "Glock 34 was around $700 dollars, whereas my new Sig Sauer P226 was $1100." This added cost, he noted, was because of the higher quality and it being "a lot more efficient." And as he would recount in the months leading up to the final attacks, while he sat in a hotel with a broken leg:
"Back when I was a weak and timid boy at Taft High School, I was powerless and frightened, having to resort to hiding in a life of playing video games. All of the suffering, loneliness, rejection, and humiliation I had to experience since then had strengthened me. The hatred that festered inside me in all of those years leading up to this point had empowered me in a dark, twisted way. I was now armed with weapons, possessed great intelligence and philosophical insight, with the willpower to exact the most catastrophic act of vengeance the world will ever see."
And if we really wanted to extend this analysis further, we should talk about the link between gun culture and the larger culture of violence that this glorification of guns represents. But that will have to be another post.
Misogyny is Deadly, and Socially Acceptable



"Women are like a plague that must be quarantined. When I came to this brilliant, perfect revelation, I felt like everything was now clear to me, in a bitter, twisted way. I am one of the few people on this world who has the intelligence to see this. I am like a god, and my purpose is to exact ultimate Retribution on all of the impurities I see in the world."
As Wikipedia so helpfully reminds us, misogyny (mɪˈsɒdʒɪni) is the dislike or hatred of women. It's basically sexism + patriarchy + violence, wrapped into one neat little package of human ugliness. It's also a concept as old as human civilization, or at least the Old Testament, which for some people is the same thing. In the case with Rodger, this philosophy, when combined with the influence of the Men's Rights Movement (MRM), led him to the twisted conclusion that he had some intrinsic right as a man to possess women and control every aspect of their lives. The fact that he was not able to attract any interested women–especially given his opulent lifestyle and Cali celebrity connections (thanks to his parents), speaks volumes about how his narcissistic and self-obsessed personality complex failed to attract any love interests. It seems the biggest romantic obstacle for Elliot Rodger was Elliot Rodger.
What becomes explicitly clear after watching the dozen or so videos originally posted on his YouTube account, and reading his manifesto, is that Rodger's was deeply insecure, and felt morally offended that he was not able to find a girlfriend. In the twisted and misogynistic worldview he constructed for himself over many years, this meant that the women must be to blame, rather than himself, since we was the "perfect gentleman," and therefore entitled to their bodies and their sex.
"You forced me to suffer all my life, now I will make you all suffer. I waited a long time for this. I'll give you exactly what you deserve, all of you. All you girls who rejected me, looked down upon me, you know, treated me like scum while you gave yourselves to other men."
There is no doubt this dangerous ideology is directly linked to the sexism and misogyny of the MRM in particular, and their imagined slights at the hands of women. If you're not familiar with the MRM, take a look at some folks like A Voice for Men, The Player Supreme Show, and Pick Up Artist Hate (PUAHate) to see the sexism they espouse. [The PUAHate site is now offline, but you can see archived screengrabs here] Similar ideas can be found in books like The Second Sexism by David Benatar.
"The Spring of 2013 was also the time when I came across the website PUAHate.com. It is a forum full of men who are starved of sex, just like me. Many of them have their own theories of what women are attracted to, and many of them share my hatred of women, though unlike me they would be too cowardly to act on it."
As the Examiner's Allen Roger Currie recently wrote, "PUAhate.com is a cesspool of misogynists and emotionally fragile and unstable young men. Within weeks after I started posting there, I told the guys there that someone from that message board was going to potentially end up becoming a rapist or serial killer of women. In the case of Elliot Rodger, unfortunately, my premonition was accurate."
Rodger's now infamous "Retribution" video makes these kind of views explicitly clear.
"It's not fair. You girls have never been attracted to me. I don't know why you girls aren't attracted to me. But I will punish you all for it! It is an injustice, a crime. Because I don't know what you don't see in me. I am the perfect guy, and yet you throw yourselves at all of these obnoxious men, instead of me, the supreme gentleman. I will punish all of you for it. Ha ha ha ha."
This is the extreme but inevitable conclusion to the idea that men have a right to own and control women, even if that means violently taking their lives for imagined slights. And as Rodger's manifesto spells out in the opening paragraphs, he feels he has accumulated an entire lifetime of female slights.
"Humanity… All of my suffering on this world has been at the hands of humanity, particularly women. This is the story of how, I Elliot Rodger, came to be. This is the story of my entire life. It is a dark story of sadness, anger, and hatred. It is a story of a war against cruel injustice. In this magnificent story, I will disclose every single detail about my life, every single significant experience that I have pulled from my superior memory, as well as how those experiences have shaped my views of the world. This tragedy did not have to happen. I didn't want things to turn our this way, but humanity forced my hand, and this story will explain why. My life didn't start out dark and twisted."

But everyone reading this would do well to recall that while the MRM may be the blunt edge of these sexist beliefs, the underlying heteronormative worldview thrives in the larger and more general culture of sexism that is as apple pie as capitalism and US imperialism. So while we are right to condemn the MRM and anyone expressing views like those of Rodger, let's not be fooled into thinking this is just some one-off, fringe case that we can smugly condemn while we sit safely in our own enlightened beliefs, because a deep and pervasive sexism and homophobia in US culture is what legitimates and protects those responsible for sexual violence, harassment and predation on a daily basis. The stats on sexual violence alone make this indisputable, as do popular phrases like "rape culture," or "she asked for it," "give her the D" and many, many more... Washington Post critic Ann Hornady raised a similar set of concerns, and got harshly attacked for even daring to suggest Rodger "unwittingly expressed the toxic double helix of insecurity and entitlement that comprises Hollywood's DNA."
These sexist views are common and quite public, as apologists for the "Breaker of Chains" rape scene in The Game of Thrones demonstrate–it was just "a single instance of unintentionally ham-fisted filmmaking." Nothing to see here, move along. Or consider the following video clip from the American horror movie Hostel Part II, which Rodger had posted on his YouTube account (extreme trigger warning). The premise of the film, like its predecessor, "centers on a facility in which rich clients pay to torture and kill kidnapped victims."
In other words, this is a slice of the fantasy world that Rodger enjoyed and, after sufficient psychological marination, enacted in reality in recent days. The only difference is he swapped a circular saw for a knife and a semi-auto handgun. He would begin testing out these violent fantasies in small, seemingly banal acts as he worked his way up to murder. The following four incidents during his first two years at Santa Barbara appear, in hindsight, to have been trial runs for his final violent acts. Had one of these failed, perhaps he would have changed course, or chickened out, which I think could have been an equally likely scenario.
"I ordered my coffee and sat down on one of their chairs to relax. A few moments later, when I looked up from my drink, I saw a young couple standing in line. The two of them were kissing passionately. The boy looked like an obnoxious punk; he was tall and wore baggy pants. The girl was a pretty blonde! They looked like they were in the throes of passionate sexual attraction to each other, rubbing their bodies together and tongue kissing in front of everyone. I was absolutely livid with envious hatred. When they left the store I followed them to their car and splashed my coffee all over them. The boy yelled at me and I quickly ran away in fear. I was panicking as I got into my car and drove off, shaking with rage-fueled excitement. I drove all the way to the Vons at the Fairview Plaza and spent three hours in my car trying to contain my tumultuous emotions. I had never struck back at my enemies before, and I felt a small sense of spiteful gratification for doing so. I hated them so much…I wanted to do horrible things to that couple. I wanted to inflict pain on all young couples. It was around this point in my life that I realized I was capable of doing such things. I would happily do such things. I was capable of killing them, and I wanted to. I wanted to kill them slowly, to strip the skins off their flesh. They deserve it. The males deserve it for taking the females away from me, and the females deserve it for choosing those males instead of me."

"A tall, blonde, jock-type guy walked into one of the restaurants, and at his side was one of the sexiest girls I had ever seen. She too was tall and blonde. They were both taller than me, and they kissed each other passionately. They made me feel so inferior and worthless and small. I glared at them with intense hatred as I sat by myself in my lonely misery. I could never have a girl like that. The sight was burned into my memory, and it caused a scar that will haunt me forever. When they walked away, I followed them in my car for a few minutes, and when they entered a less inhabited area I opened my window and splashed my iced tea all over them. It was all I could do at the time, but at least it was something. At least I made some effort to fight back against the injustice. I felt sick with hatred that night. The hatred boiled inside me with burning vitriol."

"I was stopped at a stoplight in Isla Vista when I saw two hot blonde girls waiting at the bus stop. I was dressed in one of my nice shirts, so I looked at them and smiled. They looked at me, but they didn't even deign to smile back. They just looked away as if I was a fool. As I drove away I became very infuriated. It was such an insult. This was the way all girls treated me, and I was sick and tired of it. In a rage, I made a U-turn, pulled up to their bus stop and splashed my Starbucks latte all over them. I felt a feeling a spiteful satisfaction as I saw it stain their jeans. I then quickly speeded away before they could catch my license plate number. How dare those girls snub me in such a fashion! How dare they insult me so! I raged to myself repeatedly. They deserved the punishment I gave them. It was such a pity that my latte wasn't hot enough to burn them. Those girls deserved to be dumped in boiling water for the crime of not giving me the attention and adoration I so rightfully deserve!"

"All of the girls were scantily clad. Rage boiled inside me as I watched those people who thought they were better than me enjoying their pleasurable little lives together. The rage was so intense that I couldn't take it. I was insulted too much. I couldn't leave them without getting some form of revenge, so I drove to the nearby K-mart, bought a super-soaker, filled it up with orange juice that I bought at the same store, and drove back to the park. They were still there, having the time of their lives, and I wanted to ruin it for them. I wanted to ruin their fun just like they ruined mine, as they would never accept me among them. I screamed at them with rage as I sprayed them with my super soaker. When the boys started to yell and chase after me, I quickly got into my car and drove away. I was giddy with ecstatic, hate-fueled excitement. I wished I could spray boiling oil at the foul beasts. They deserved to die horrible, painful deaths just for the crime of enjoying a better life than me…After I had calmed down, I was overcome with the worry and fear that I would get in trouble for it."
It doesn't take a genius to know that these kind of films speak to a certain twisted humanity to begin with, but the fact that they thrive in popular media is another sign of this much deeper, foundational sexism in the world today. But gun violence and sexism alone is not enough to explain Elliot Rodger, as we also need to account for his excess affluence.
Finally, to really understand this story we need to look at Rodger's upbringing, which included a childhood of global travel, family relocation, divorce, and a re-marriage into Hollywood celebrity culture circles–his father for his photography career, and later, involvement with The Hunger Games, and his stepmother for her French film and television career, most recently in Les Vrais Housewives. By his own accounts, he grew up a privileged and happy boy until at least 1st grade, even noting that his father came from "a family that was once part of the wealthy upper class" in Britain prior to the war.
"For preschool, I was enrolled at Dorsett House, an upscale all-boys private school in the countryside, near where we lived," wrote Rodger. He continued this lifestyle when the family moved to California. Describing their first house, he wrote that the "house was quite big, with white walls and a beautiful backyard that led to a gated swimming pool area. It was located in an upscale part of Woodland Hills." From there he attended another elite private charter school, Topanga Elementary Charter School, where the formative years of his current life appear to have begun. His later adventures included "red carpet" premiers of Star Wars 1 and 2, throwing a tantrum when he feared he would not get "one particular bedroom that had its own bathroom and a personal balcony" in the new family house, and preferring to spend time with his biological mother, who "always got me what I wanted, right when I wanted it. At mother's house, all of my needs were met with excellent precision." Other adventures included traveling "Virgin Atlantic Upper Class. I was extremely enthusiastic about this, as I always loved luxury and opulence." In between these various events passed an array of friends, most who later become his self-described bitter rivals or else "an object of my extreme jealousy and hatred," primarily because they had achieved the social status of "cool" he felt personally entitled to but was never able to actually achieve in his mind.
Added to this were social standing and class issues, which clearly preoccupied him, as he recounts when his father cut his mother's child support payments, forcing her to move to a cheaper house in a "bad" part of town.
"I was a bit hesitant to invite anyone from Pinecrest to my mother's house, because it was located in Canoga Park, a bad area, and most of the kids at Pinecrest were upper-middle class who would look down on me for living there. But I couldn't back out of this once my mother invited Connor…But after that playdate, he would always rip on me for living in a "poor" house. He would also tell other kids at Pinecrest about it. This infuriated me to no end, and I would keep proclaiming that my father lives in a prestigious three-story house in the Woodland Hills Heights. I became vehemently obsessed with proving to Connor and everyone else that I wasn't poor. I went so far as to bring pictures of my father's house to school."
These incidents are just a few examples from his manifesto which highlight how wealth and social status would plague him for his entire life. These various events fit into a larger story about his outlook on the world, one shaped and defined by extreme material privilege, yet largely devoid of any meaningful human attachments. As he would describe many years later after he began college, the idea of actually having to work seemed beneath him, such was his self fabricated social elitism and blind privilege.
"I continued searching for a job, but I still wasn't able to find one. I refused all of the jobs that Tony [a life coach his mother hired for him] suggested to me. The problem was that most of the jobs that were available to me at the time were jobs I considered to be beneath me. My mother wanted me to get a simple retail job, and the thought of myself doing that was mortifying. It would be completely against my character. I am an intellectual who is destined for greatness. I would never perform a low-class service job."
Another example of this self-righteous sense of entitlement came around the same time, when his biological mother had been dating a millionaire, which Elliot saw as a way to possibly reclaim his sense of elite entitlement and prove his economic standing amongst his peers.
"I found out that my mother was actually dating Jack, the wealthy man who owned the Malibu beach house…He was worth well over $500 million, and he owned other mansions in Bel Air and Beverly Hills. When I found out about this, I started to harbor the hope that my mother will get married to this man, and I will be part of a rich family. That will definitely be a way out of my miserable and insignificant life. Money would solve everything. I started to frequently ask my mother to seek marriage with this man, or any wealthy man for that matter. She always adamantly refused, and demanded that I stopped talking about it…I told her that she should sacrifice her well-being for the sake of my happiness, but this only offended her further."
His obsession with money and status would follow him to his grave. In his last year at UCSB, he perfectly describes the powerful effect of affluenza on an individual.
"When I wore these [new $200 jeans] to school, I saw that I was wearing better Jeans than most other guys, and that made me have a slightly higher sense of self-worth. I also bought a few more shirts, and a pair of new Hugo Boss sneakers. Doing this started a new obsession for me. I became more and more obsessed with my appearance. Because my mother, father, and grandmother constantly paid me extra money now that I was living in Santa Barbara, I had saved up enough to indulge in this obsession. Familiarizing myself with all of the top designer brands, I bought new clothes every time I visited my hometown."

"My favorite part was walking through the store Harrods. Harrods is a gigantic, renowned luxury designer clothing store. Every facet of it exuded beauty and excessive opulence. It was my type of place. I wished I was rich enough to buy anything I wanted at the store – there were so many choices of fabulous clothing – but alas, I had to settle with buying only one Giorgio Armani shirt."

"I couldn't help but feel a bitter form of envy at all of the rich kids at the [exclusive Katy Perry] concert. They grew up in lavish mansions, indulged in excessive opulence, and will never have to worry about anything in their pleasurable, hedonistic lives. I would take great pleasure in watching all of those rich families burn alive. Looking at all of them really drilled in my mind the importance of wealth. Wealth is one of the most important defining factors of self-worth and superiority. I hated and envied all of those kids for being born into wealth, while I had to struggle to find a way to claim wealth for myself. I had to be ruthless, and do whatever it takes to attain such wealth. After all, it was my only hope of ever being worthy of getting a girlfriend and living the life of gratification that I desire."

"I was meant to live a life of significance and extravagance. I was meant to win this [Mega Millions] jackpot. It was destiny. For the first few drawings I played, I spent $50 to $100 on tickets, but to my profound frustration I still didn't win, and the jackpot kept rising. This only increased my enthusiasm. I started to picture a whole new, perfect life for myself after I won. I imagined buying a beautiful, opulent mansion with an extravagant view, and acquiring a collection of supercars which I would use specifically to attract beautiful girls into my life. I planned to go back to college once I had bolstered myself with all this wealth, and lord myself over all the other students there, finally fulfilling my dream of being the coolest and most popular kid at school. As I sat meditating in my room, I imagined the ecstasy I would feel as scores of beautiful girls look at me with admiration as I drive up to college in a Lamborghini. Such an experience would make up for everything. I had to win this jackpot…And then the jackpot reached a number that I never imagined it would… $656 Million…I knew right then and there that this jackpot was meant for me. Who else deserved such a victory? I had been through so much rejection, suffering, and injustice in my life, and this was to be my salvation. With my whole body filled with feverish hope, I spent $700 dollars on lottery tickets for this drawing. As I spent this money, I imagined all the amazing sex I would have with a beautiful model girlfriend I would have once I become a man of wealth."
In addition to these issues of class identity and privilege, there is also a clear set of racialized politics visible in Rodger's manifesto, which includes both his own mixed-race heritage and his internalized racial inferiority.
Racial Politics
The only vague point of quasi-sympathy I can find for Elliot came from one section of his childhood when he was around nine, when the social roles around him began to fully exert their force, pushing him, as he described it, from a child into an adolescent. Not only that, but more importantly as Elliot describes it, he was a short, shy and uncool kid, much to his dismay. "This revelation about the world, and about myself, really decreased my self-esteem. On top of this was the feeling that I was different because I am of mixed race. I am half White, half Asian, and this made me different from the normal fully-white kids that I was trying to fit in with." We should not dismiss the very real challenges that kids face from multiracial backgrounds, especially in a dominant white culture like where Elliot grew up. A closer reading of his comments appear to reflect a deep sense of internalized racial oppression, where Elliot not only believed that white skinned, blond haired children were the standard of beauty, but he also holds his parents accountable for "not shaping him" into this ideal version of whiteness.
"I envied the cool kids, and I wanted to be one of them. I was a bit frustrated at my parents for not shaping me into one of these kids in the past. They never made an effort to dress me in stylish clothing or get me a good-looking haircut. I had to make every effort to rectify this. I had to adapt. My first act was to ask my parents to allow me to bleach my hair blonde. I always envied and admired blonde-haired people, they always seemed so much more beautiful. My parents agreed to let me do it, and father took me to a hair salon on Mulholland Drive in Woodland Hills. Choosing that hair salon was a bad decision, for they only bleached the top of my head blonde. When I indignantly questioned why they didn't make all of my hair blonde, they said that I was too young for a full bleaching. I was furious. I thought I looked so silly with blonde hair at the top of my head and black hair at the sides and back. I dreaded going to school the next day with this weird new hair." (emphasis mine)
This would not be the only time this internalized racial oppression would manifest, however. One of the first experience after moving into his new Santa Barbara college apartment was with a young Black man named Chance, who was a friend of his roommates, and for whom he expressed a deep and open racial hostility, feelings which were only increased by the revelation that this Black man had sex with a blond white girl as a youth.
"How could an inferior, ugly black boy be able to get a white girl and not me? I am beautiful, and I am half white myself. I am descended from British aristocracy. He is descended from slaves. I deserve it more. I tried not to believe his foul words, but they were already said, and it was hard to erase from my mind. If this is actually true, if this ugly black filth was able to have sex with a blonde white girl at the age of thirteen while I've had to suffer virginity all my life, then this just proves how ridiculous the female gender is. They would give themselves to this filthy scum, but they reject ME? The injustice!"
A similar incident would occur shortly after during a lunch visit at Camino Real Marketplace with his father, except this time his racial hatred was directed towards someone he believed to be Mexican. Once again in this incident, notice how his emphasis is focused on the blond white girl the man is with.
"When we sat down at our table, I saw a young couple sitting a few tables down the row. The sight of them enraged me to no end, especially because it was a dark-skinned Mexican guy dating a hot blonde white girl. I regarded it as a great insult to my dignity. How could an inferior Mexican guy be able to date a white blonde girl, while I was still suffering as a lonely virgin?"
In a similar instance not long after, he first meets his new roommates in his college apartments, who turn out to both be Hispanic, a point of "dismay," since he decided they must be "rowdy, low-class types." As he described it, he was hoping to "get decent, mature, clean-cut housemates. Instead I got low-class scum." Other racialized incidents he describes include an insulting conversation with his new roommates about sex, about which he stated "I particularly hated Angel because of his ugly pig-face. How could such an ugly animal have had sexual experiences with girls, and yet I haven't?"
A final incident took place in the fall of last year, while Elliot was stumbling around drunk at a USBC party, trying to find girls. This time, however, his hatred is directed against an Asian he feels some identity with.
"I came across this Asian guy who was talking to a white girl. The sight of that filled me with rage. I always felt as if white girls thought less of me because I was half-Asian, but then I see this white girl at the party talking to a full-blooded Asian. I never had that kind of attention from a white girl! And white girls are the only girls I'm attracted to, especially the blondes. How could an ugly Asian attract the attention of a white girl, while a beautiful Eurasian like myself never had any attention from them? I thought with rage. I glared at them for a bit, and then decided I had been insulted enough. I angrily walked toward them and bumped the Asian guy aside, trying to act cocky and arrogant to both the boy and the girl. My drunken state got the better of me, and I almost fell over to the floor after a few minutes of this. They said something along the lines that I was very drunk and that I needed to get some water, so I angrily left them and went out to the front yard, where the main partying happened. Rage fumed inside me as I realized that I just walked away from that confrontation, so I rushed back into the house and spitefully insulted the Asian before walking outside again."
Another excellent analysis on the race politics of this story was written by Jeff Yang here. These examples are just the tip of the story, as his hatred goes much deeper than even I could have imagined, and the narrative of his manifesto slowly reveals the various forces which would shape his life, key among them parental neglect, school bullying, female rejection and social and physical insecurity.
"All I could do was remember every single insult, so I can get revenge in a more efficient way in the future. That is who I am. I don't act stupidly or rashly. I remember every insult, and I wait until the time is right to strike. When that time comes, I will crush all of my enemies in the most devastating and catastrophic way possible, and the results will be beautiful."
Raising a Killer
All of this provides a rough general picture of the influences which shaped Elliot Rodger, but to truly understand how and why he developed the ideas he did, we need to go deeper into his personality and how he constructed the narrative of his life. "Why do things have to be this way? I'm sure that is the question everyone will be asking after the Day of Retribution is over. They will all be asking why. Indeed, why?"
1) The Absent Father
Elliot's father was assistant director on The Hunger Games, a film glorifying the ritual murder of young men and women for the entertainment pleasure of an elite class of wealthy citizens. Judging by the amount of time his father spent away from home–shooting pictures internationally, working on films like Oh My God, writing his The OMG Chronicles, and finally working on The Hunger Games, one wonders who was at home to raise Elliot besides his nannies?
Reflecting on his relationship with his father by 1st grade, as well as that between his birth mother and father, Elliot writes:
"My father's new directing career was taking off quite well too, and he would go away a lot to direct commercials for prestigious companies, leaving my mother and the nanny to look after me. The only downside of this was my father's absence from my life. Despite this, I always looked up to him as a powerful and successful man…Life was good at the round house, but soon enough I had to witness my mother and father get into a lot of arguments. I was too young at the time to understand what they were arguing about, but I knew they were not getting along…Very shortly after my seventh birthday, the news came. I believe it was my mother who told me that she and my father were getting a divorce; my mother, who only a few months before told me that such a thing will never happen. I was absolutely shocked, outraged, and above all, overwhelmed. This was a huge life-changing event…My life would change forever after this."
Roger himself notes his absence from his family in the dedication to his The OMG Chronicles, where he writes: "This book is dedicated…to Soumaya, my wife; and Elliot, Georgia, and Jazz, my children, for putting up with my absence, even when I was at home." The book's acknowledgement further stresses this point about his family, who he says "gave up more than I to create both the film and the book—they made sacrifices that cannot be expressed in words."
It is often said that the search for God involves many sacrifices, an idea that would come back to haunt him. But Elliot learned a different lesson as a boy from his father about sacrifice and relationships following his parent's divorce. In particular, his father's quick turnaround with a new "girlfriend" and later wife, Soumaya, was a key moment. Her role as an authority figure over him is also a recurrent theme. Reflecting on his childhood memory at this time, Elliot wrote:
"Because of my father's acquisition of a new girlfriend, my little mind got the impression that my father was a man that women found attractive, as he was able to find a new girlfriend in such a short period of time from divorcing my mother. I subconsciously held him in higher regard because of this. It is very interesting how this phenomenon works… that males who can easily find female mates garner more respect from their fellow men, even children. How ironic is it that my father, one of those men who could easily find a girlfriend, has a son who would struggle all his life to find a girlfriend….For the initial period of her being a new member of the family, we got along well, and she was quite fun. But soon she would start to discipline me in a harsh way that I wasn't used to. I felt that because she wasn't my real parent, she had no right to discipline me in such a way, and so I rebelled. That's where the first conflicts arose…[these conflicts] with Soumaya started a trend in which I would love being at mother's house and dread the weeks I had to spend at father's house. On top of the conflicts with Soumaya, father was rarely there, as he was always out of town for his work." (emphasis mine)
Whatever idealization he had for his father was trounced when Elliot started into middle school, where he describes his failed social interactions in the first few days as going back to a perceived role model failure by his father:
"Everything my father taught me was proven wrong. He raised me to be a polite, kind gentleman. In a decent world, that would be ideal. But the polite, kind gentleman doesn't win in the real world. The girls don't flock to the gentlemen. They flock to the alpha male. They flock to the boys who appear to have the most power and status. And it was a ruthless struggle to reach such a height."
Yet as one digs deeper into Elliot Rodger's background, it is clear he had everything a young man could have wanted, and much, much more–except for personal fulfillment. He had fancy cars, attended private parties with Katy Perry, and was at the opening of The Hunger Games. He traveled first class all over the world. He attended private schools most of his life, and went to a leading California university. He worked two jobs in his entire life–helping his dad's friend do some carpentry and a few hours of custodial work. He wanted for nothing except consistent parental role models who were not obsessed with fame and glamor, and he held a deep grudge against his father precisely for this reason.
"My misery became harder and harder to bear, and none of my parents understood my plight. My father thought that all was well with me. How could he be so blind? He was so caught up in his failing work that he didn't care about how my life was turning out. I cursed him for it. My father never made any effort to prepare me for facing such a cruel world. He never taught me how to attract girls. He never warned me that if I didn't attract girls at an early age, my life would fall into a miserable pit of despair! Again… How could he be so blind? I asked myself constantly."
Reflecting on his relation with his father a few years later, at a point when he was still not on speaking terms with either his father or stepmother from an earlier fallout leading to his total expulsion from their home, Elliot noted:
"My father effectively abandoned me at one of my most crucial points in my life. Though in fact, he was never really present in my life to abandon me in the first place. When I think about it, he was always absent from my life. When my whole world took a downward spiral into darkness after I hit puberty, he never made any effort to save me. He just didn't care."
2) The Fame-Obsessed Stepmother
Elliot's relationship with his stepmother Soumaya Akaaboune was nearly always a tense one by his accounts, starting from shortly after she married his newly divorced father. She made her career as an actress, most recently playing a "housewife" in a French spinoff of Real Housewives of Beverly Hills, a show obsessed with crass consumerism, Botox injections, extravagant wealth and an artificial lifestyle unattainable by all but the most elite. While most media accounts of Akaaboune describe her as charming and warm, the picture painted of her in Elliot's manifesto as a stepmother is a quite different story. In his story she played the role of the overbearing and evil stepmother who is always hounding him, and eventually kicks him out of his father's house.
Strangely, the last movie Akaaboune appeared in, Lovelace, tells the story of Linda Boreman of Deep Throat porn fame. The plot is about a woman who is used and abused by the porn industry and her violent husband, a motif that Elliot echoed in his own manifesto. Sadly, Akaaboune's role in the film was "Feminist #1," apparently a role model figure she was not able to play successfully at home, as Elliot's narrative shows no trace of any such influences. Most of their interactions were negative power relations, as he saw it, and he harbored a great deal of resentment towards her. "I hated her," he writes at one point while discussing their interactions when he was around eleven.
Like Elliot's father, one wonders if she had spent more time teaching him about feminism at home, and less time playing a trash tv 'housewife' and feminist on the big screen, if things might have turned out differently. Then again, maybe it wouldn't have made any difference, given his own gendered politics. All we do know is that growing up, Elliot Rodger saw his parental figures obsessing over fame, glamor, and power as the highest ideals. More often than not nannies (he mentioned French, German, Spanish and African American nannies at different times) replace his absentee father and stepmother, who were both too busy with their career to worry about actually raising him, a trend all too common in Hollywood and elite circles today. It appears that only his biological mother, who also lived in the area, provided any positive support and encouragement for him as a child.
3) The Twists of Fate

Finally, in one of those plot twists seemingly only possible in a made-for-tv mini-drama, one of the last posts on Akaaboune's facebook page prior to these awful events was a video from the UK band The International Swingers, who describe themselves as "warriors of the punk/new wave/glam era who led onslaughts upon the pop charts scoring hit songs despite being infamously banned from the radio." Akaaboune knew the lead singer Gary Twinn, and the group was on their Gun Control Tour at the time she posted their video. Yes, you read that right. The video was for a song called "Gun Control"–no joke–to which she commented on the video post: "Ooooooh this is reeeeeally cool from my friend Gary, lead singer of The International Swingers!!!" The song opens with the hauntingly prophetic line, "Cruising around my Seven-Eleven, searching for a teenage heaven."
In an interview with Penny Black Music, The International Swingers band member Clem Burke had this to say about their song, and the politics of gun violence in the US it was aimed at:
"People have assault rifles and all kinds of crazy things in the States. It is not a good thing. I am into the idea of prevention with that. When Gary Twinn came up with the lyrics for the music which we had all been working on, we all related to it immediately…People that are following us on social media have been very positive about it. On a purely mercenary level, we were hoping for more of a negative reaction in L.A. or somewhere like that. A bit of controversy is always a good thing (Laughs). I did send it out to a couple of people who unknown to me were members of the National Rifle Association and I was kind of surprised at their response, but overall it has been very good. It has been the message that we want to send out, and so we stand by it. The world is a crazy place."
Indeed, the world is a crazy place, and it seems that The International Swingers are now getting precisely the attention they were hoping for, albeit in a way they surely do not welcome. Going back to our earlier point on the issue of gun control and gun violence, this incident certainly brought out some "mercenary" events in the "crazy place" of LA "or somewhere like that," and represents yet another seeming random thread tying together this series of unlikely people and events. As Santa Barbara police have since reported, "three semi-automatic handguns – two Sig Sauer P226s and a Glock 34 Long Slide – had been retrieved from the car, along with more than 400 rounds of ammunition." This was precisely the kind of situation the music video Gun Control was written to call attention to.
We can now add this "diabolical" incident to the growing list of poster children for gun violence in America. As the Center for American Progress noted in their 2014 study Young Guns, "On average, 33,000 Americans are killed with guns each year, and the burden of this violence falls disproportionately on young people: 54 percent of people murdered with guns in 2010 were under the age of 30."
Waypoints on the Road to Violence
But even given all of this, what explains the deep misogyny and eventual acts of murder by Elliot Rodger? In reading through his manifesto, several life events stand out. The first occurred during the summer between sixth and seventh grade, while he was at summer camp. Elliot was eleven at this time:
"At this camp, an incident happened that would scar me for life. The first time that I was treated badly by a girl occurred at this camp. I was innocently playing with the friends I made, and they were tickling me, something people always did because I was very ticklish. I accidently bumped into a pretty girl the same age as me, and she got very angry. She cursed at me and pushed me, embarrassing me in front of my friends. I didn't know who this girl was… She was only at Pinecrest for summer camp… But she was very pretty, and she was taller than me. I immediately froze up and went into a state of shock. One of my friends asked me if I was ok, and I didn't answer. I remained very quiet for the rest of the day. I couldn't believe what had happened. Cruel treatment from women is ten times worse than from men. It made me feel like an insignificant, unworthy little mouse. I felt so small and vulnerable. I couldn't believe that this girl was so horrible to me, and I thought that it was because she viewed me as a loser. That was the first experience of female cruelty I endured, and it traumatized me to no end. It made me even more nervous around girls, and I would be extremely weary and cautious of them from that point on."
Notice what he highlights: beauty (the girls was very pretty), physical stature (she was taller then him), and social status (she cursed, pushed and publicly embarrassed him). As he puts it, he felt "like an insignificant, unworthy little mouse."
A second event which seems to have been quite significant took place during his eighth grade year, when he was 13. The scene where this event took place was one of his frequent hangout, the Planet Cyber gaming center near where his mother lived. As he tells it, this was his first real encounter with any exposure to issue of sexuality.
"One time while I was alone at Planet Cyber, I saw an older teenager watching pornography. I saw in detail a video of a man having sex with a hot girl. The video showed him stick his penis inside a girl's vagina. I didn't know anything about sex at the time. I barely even knew what sex was. I was slowly starting to develop sexual feelings for hot girls, but I didn't know what to do with them. To see this video really traumatized me. I had no idea what I was seeing… I couldn't imagine human beings doing such things with each other. The sight was shocking, traumatizing, and arousing. All of these feelings mixed together took a great toll on me. I walked home and cried by myself for a bit. I felt too guilty about what I saw to talk to my parents about it. I was quite shaken for a few days. This was among the very first glimpses I had of sex. Finding out about sex is one of the things that truly destroyed my entire life. Sex… the very word fills me with hate. Once I hit puberty, I would always want it, like any other boy. I would always hunger for it, I would always covet it, I would always fantasize about it. But I would never get it. Not getting any sex is what will shape the very foundation of my miserable youth. This was a very dark day."
A third moment that appears to have been significant took place that same year, and involved the combination of his mother moving into an apartment, the thought of which was unacceptable to him, since as he put it "I had never lived in an apartment before, and I always thought of apartments as being poor and low-class. I would be embarrassed to admit it to anyone." But more than that, this move appears to have severed his social connections with the few friends he did have, and between his already anti-social personality and a growing video game obsession, from this point onward he turned further and further inward and away from society. Between 13 and 17 is the period when he describes his personality as shifting from the "shy kid" to the "weird kid," which as he described it, was a way to try and gain attention.
"This was the point when my social life ended completely. I would never have a satisfying social life ever again. It was the beginning of a very lonely period of my life, in which my only social interactions would be online through video games, with the sole exception being my friendship with James. The ability to play video games with people online temporarily filled in the social void. I got caught up in it, and I was too young and naïve to realize the severity of how far I had fallen. I was too scared to accept it. This loss of a social life, coupled with the advent of puberty, caused me to die a little inside. It was too much for me to handle, and I stopped caring about my life and my future. I even stopped caring about what people thought of me. I hid myself away in the online World of Warcraft, a place where I felt comfortable and secure."
This anti-social turn was further reinforced by another interaction with a girl at his school which deepened his growing hatred towards women. Describing the start of this period of his life, and this incident, Elliot wrote:
"I became known as the "weird kid" at Pinecrest, and people started to make fun of me, but I didn't care. I had my online games to distract me from the harsh realities of life that I was too scared to face. The only time I did care was when a group of popular Seventh Grade girls started teasing me, which hurt a lot. One of these girls was Monette Moio, a pretty blonde girl who was Ashton's younger sister [a peer of his]. She must have thought I was an ultimate loser. I hated her so much, and I will never forget her. I started to hate all girls because of this. I saw them as mean, cruel, and heartless creatures that took pleasure from my suffering…The way I was treated by girls at my school played a big part in my resentment towards all of them during this time."
As he later goes on to reveal, this interaction with Monette Moio had a lasting impact on how he viewed women, and in particular, his belief that being scorned by someone he was attracted to was actually the girl's fault, rather than his own, a view which only helped to reinforce his growing misogyny.
"My experience during Middle School really darkened my view of the world, and it would only get darker from then on, as I suffered more and more. The way I was treated by girls at this time, especially by that evil bitch Monette Moio, sparked an intense fear of girls. The funny part of this is that I had a secret crush on Monette. She was the first girl I ever had a crush on, and I never admitted it to anyone. To be teased and ridiculed by the girl I had a crush on wounded me deeply. The world that I grew up thinking was bright and blissful was all over. I was living in a depraved world, and I didn't want to accept it. I didn't want to give any thought to it. That is why I immersed myself entirely into my online games like World of Warcraft. I felt safe there."
Added to these negative interactions with women were a number of school-related bullying incidents, as well as blatant expressions of homophobia directed against him during his freshman year, which was when he started attending a private, Catholic all-boys school called Crespi Carmelite. He recounts one of those early incidents as follows:
"On the very first week, I had my first experience of true bullying, not just the teasing I had at Pinecrest. Some horrible Twelfth Graders saw me as a target because I looked like a ten year old and I was physically weak. They threw food at me during lunchtime and after school. It enraged me, but I was too scared to do anything about it. What kind of horrible, depraved people would poke fun at a boy younger than them who has just entered high school? I thought to myself. My life at Crespi got even worse. Alfred and Brice apparently told everyone how weird I was at Pinecrest, and people in my own grade started to tease me. They found out that I didn't like being called a skateboarder, and it was true. Because I failed to become good at skateboarding, I developed a hatred for the sport, and whenever someone called me a skateboarder, it reminded me of my failure and I got very angry. The whole school started calling me it just to anger me, along with other insulting names. They teased me because I was scared of girls, calling me names like "faggot". People also liked to steal my belongings and run away in an attempt to get me to chase after them. And I did chase after them in a furious rage, but I was so little and weak that they thought it was comical. I hated everyone at that school so much. It got to a point where I had to wait in a quiet corner for the hallways to clear before I could walk to class. I also took long routes around the school to avoid bullies."
These incidents were further aggravated during Elliot's freshman year as he started to mature sexually, and it was at this point that he started his own sexual experimentation. But since he was not able to establish any meaningful interactions with women, his sexual frustration, compounded by locker room stories of the sexual exploits of his male classmates, sent him into a deeper spin of sexual frustration and personal insecurity.
"The boys in my grade talked about sex a lot. Some of them even told me that they had sex with their girlfriends. This was the most devastating and traumatizing thing I've ever heard in my life. Boys having sex at my age of Fourteen? I couldn't fathom it. How is it that they were able to have such intimate and pleasurable experiences with girls while I could only fantasize about it? I frequently started asking myself. This was an all-boys school… How in the hell were those boys even able to meet girls to have sex with? I wondered. I hoped they were lying. I hoped against all hope. Hearing that really shook me to the core. Words cannot describe how much hatred and envy I felt for those boys. That hatred would only fester the more I suffer from my sexual starvation. I was too scared to tell anyone about it, and I hid it well… for a time."
All of these events continued to escalate, leading to a drop in his grades and more problems at home. Finally his parents decided to move him to yet another school for the next year, a move which only traumatized him more, and at least by his accounts, increased the level of bullying he was experiencing at school. It is also quite clear that at this point his views about "alpha males" and women liking terrible men took a concrete form. The lesson he learned, sadly, was that physical strength, popularity and money are the signifiers that matter, everyone else is insignificant. At this time you can also see his growing misogyny and misanthropy beginning to emerge, partly in reaction to this bullying.
"The first week of Taft was living hell. I was bullied several times, even though I didn't know anyone there. After being so used to wearing a polo shirt with khaki pants as a school uniform at private schools, I continued to dress like that even after leaving Crespi. I didn't give any thought to how nerdy I looked. I was too withdrawn, like a turtle tucked into his shell. I was still in the process of going through puberty at the time, so I still looked and sounded like a ten-year-old. Such a persona attracted zero attention from girls, of course, but it did attract bullies like moths to a flame. I was completely and utterly alone. No one knew me or extended a hand to help me. I was an innocent, scared little boy trapped in a jungle full of malicious predators, and I was shown no mercy. Some boys randomly pushed me against the lockers as they walked past me in the hall. One boy who was tall and had blonde hair called me a "loser", right in front of his girlfriends. Yes, he had girls with him. Pretty girls. And they didn't seem to mind that he was such an evil bastard. In fact, I bet they liked him for it. This is how girls are, and I was starting to realize it. This was what truly opened my eyes to how brutal the world is. The most meanest and depraved of men come out on top, and women flock to these men. Their evil acts are rewarded by women; while the good, decent men are laughed at. It is sick, twisted, and wrong in every way. I hated the girls even more than the bullies because of this. The sheer cruelty of the world around me was so intense that I will never recover from the mental scars. Any experience I ever had before never traumatized me as much as this."
Elliot's experience at Taft was a complete failure, and he was able to convince his parents to pull him out, and put him into a specialized school where he only attended for a few hours each day, with the rest of the time left free for him to play World of Warcraft, which at that point had become his only source of joy and security. By the time he reaches his junior year, he has sunken into a deep hatred of his peers, linked to his imagined sexual inferiority and actual lack of social skills, both of which were magnified by his anti-social tendencies. His manifesto recounts incident after incident of his peers talking about or partaking in kissing and sex, and each incident sends him into a deeper and deeper spiral. As he approached his senior year, the outline of the person we read about in recent days has begun to take shape. It is also at this time that he begins to start constructing an inverted narrative of privilege and denial, where he imagines he has been a victim who is denied all of the pleasures of life, even as he gloats over attending movie premiers and enjoying other elite privileges. In Elliot's mind, he is a victim of an unfair and unjust world, a world that he believes he has an entitlement to because of his superior personality and class status.
"Once summer started, I sank into a major depression. My feelings of inferiority were intensified by the recent events with the Bubenheims [where a younger male friend kisses a girl his age]. The Bubenheims were family friends… but now they represented the very thing that destroyed my whole life and took away my happiness. It was at this time that I was just beginning to realize, with a lot of clarity, how truly unfair my life is. I compared myself to other teenagers and became very angry that they were able to experience all of the things I've desired, while I was left out of it. I never had the experience of going to a party with other teenagers, I never had my first kiss, I never held hands with a girl, I never lost my virginity. In the past, I felt so inferior and weak from all of the bullying that I just accepted my lonely life and dealt with it by playing WoW, but at this point I started to question why I was condemned to suffer such misery."
This sense of denied entitlement comes out quite clearly in one passage when he goes to France to visit Max, who was a few years older than him, and had stayed at their home in the US for a period. Elliot looked up to Max, and identifies him as one of the few friends he had. But notice how he describes his interactions with Max, where he simultaneously denies his own privileged life while looking up to a similar one lived by Max:
"During the trip, we visited the town of Arles where we stayed in the hotel that Max's family owns. Max told me about all of the sexual experiences he had. I never knew he had such an active sex life. The more he talked to me about it, the more envious I became. I questioned to myself why he got to experience such an amazing life, while I had to suffer so much loneliness and humiliation. I was introduced to some of the girls he had sex with in the past, and they were all pretty. On top of that, his family was extremely wealthy and they owned a sprawling mansion in the countryside. Where's the justice? I thought. Why couldn't I have been born into that life? I envied Max so much."
By the end of his senior year the angry and twisted young man we know today had begun to take shape. The time between his senior year and today was spend developing and expanding his twisted logic, with his desire for revenge becoming a growing obsession. One of the final defining moments in his life he described as follows.
"One day I found some posts on the internet about teenagers having sex, and I was once again reminded of the life I had been denied. I felt that no girl would ever want to have sex with me… And I developed extreme feelings of envy, hatred, and anger towards anyone who has a sex life. I saw them as the enemy. I felt condemned to live a life of lonely celibacy while other boys were allowed to experience the pleasures of sex, all because girls didn't want me. I felt inferior and undesirable. This time, however, I couldn't just stand by and accept such an injustice anymore. I refused to continue hiding away from the world and forgetting about all the insults it dealt to me. I began to have fantasies of becoming very powerful and stopping everyone from having sex. I wanted to take their sex away from them, just like they took it away from me. I saw sex as an evil and barbaric act, all because I was unable to have it. This was the major turning point. My anger made me stronger inside. This was when I formed my ideas that sex should be outlawed. It is the only way to make the world a fair and just place. If I can't have it, I will destroy it. That's the conclusion I came to, right then and there. I spent more time studying the world, seeing the world for the horrible, unfair place it is. I then had the revelation that just because I was condemned to suffer a life of loneliness and rejection, doesn't mean I am insignificant. I have an exceptionally high level of intelligence. I see the world differently than anyone else. Because of all of the injustices I went through and the worldview I developed because of them, I must be destined for greatness. I must be destined to change the world, to shape it into an image that suits me!"
Over the winter break of his senior year he appears to be coming to terms with his self-deemed purpose in life, and we can see the threads of his later actions starting to emerge more forcefully.
"I formed an ideology in my head of how the world should work. I was fueled both by my desire to destroy all of the injustices of the world, and to exact revenge on everyone I envy and hate. I decided that my destiny in life is to rise to power so I can impose my ideology on the world and set everything right. I was only seventeen, I have plenty of time. I thought to myself. I spent all of my time studying in my room, reading books about history, politics, and sociology, trying to learn as much as I can. I became a new person, furiously driven by a goal. My torment would continue, but I had something to live for. I felt empowered."
But at this point he has not entirely given up. Concerned about his growing depression, his parents send him to Morocco in an attempt to change his outlook on life, an incident which he unsuccessfully tried to run away from. While in Morocco he convinces his family that he wants to change, and is able to return home. After another short bout of depression, he finally appeared to achieve some moments of mental clarity, and with it a desire to find a way out of the self-imposed depression he had been increasingly slipping into. As he wrote:
"I spent a few more days calming myself down. I then started to feel something that has been lost to me for a long time: Hope. Without hope, I just couldn't go on any longer. I needed to feel hope. Hope for the future, hope for a better life. Upon feeling this, I realized that perhaps it is possible for me to have the things I desire; to have a great social life again, to have a girlfriend, to have sex, to have all of the pleasures I've desperately craved for so long. It was refreshing."
Graduating early in the year, Elliot then starts looking for colleges, this new found hope pushing him on. He enrolls in, and then transfers, between a variety of colleges. At this point Elliot has turned eighteen, and his conflict with his stepmother Soumaya has grown to the point that she kicks him out of his father's house, an incident that infuriated him and reinforced his view of his father as being emasculated at the hands of his vindictive stepmother. "It was such a betrayal, to put his second wife before his eldest son." After a few more series of unsuccessful social interactions, and some personal slights by one of his few older friends, Elliot rapidly sinks back into his spiral of depression and gloom.
"My newfound optimism about life subsided, and I began feeling intense anger and hatred towards the world again" By the end of 2009 Elliot had become so self-absorbed with his hatred that it became an all-consuming obsession. "I shaped all of these ideals through learning and self-educating myself for hours every day. My personality became even more rigid, and I started to dress in very conservative attire." He was now primed and ready for his move to Santa Barbara, where his final hopes would be dashed yet again, this time magnified by the glamorous surroundings of seemingly endless supply of blond California co-eds.
On June 4, 2011 Elliot moved into the Capri Apartments in Santa Barbara. Reflecting on this final move, he would write: "In truth, the move Santa Barbara was actually a chance that I was giving to the world, not the other way around! I was giving the world one last chance to give me the life that I know I'm entitled to, the life that other boys are able to live with ease. If I still have to suffer the same rejection and injustice even after I move to Santa Barbara, then that will be the last straw. I will have my vengeance."
With that the stage was nearly set for what was to come, Elliot Rodger's "Endgame." His final act of defiance would be to drop all of his classes in the spring of 2012. With this, the final piece of his world holding his sanity intact was gone, and he began his descent into his final death spiral.
"When I dropped my college classes, I crossed a threshold that I knew existed, but never actually believed I would cross…I named it the Day of Retribution. It would be a day in which I exact my ultimate retribution and revenge on all of the hedonistic scum who enjoyed lives of pleasure that they don't deserve. If I can't have it, I will destroy it. I will destroy all women because I can never have them. I will make them all suffer for rejecting me. I will arm myself with deadly weapons and wage a war against all women and the men they are attracted to. And I will slaughter them like the animals they are. If they won't accept me among them, then they are my enemies. They showed me no mercy, and in turn I will show them no mercy. The prospect will be so sweet, and justice will ultimately be served. And of course, I would have to die in the act to avoid going to prison."
At this point there were still some last points of possible intervention. The last signs of a cry for help came between the fall of 2012 and 2013. A mental breakdown led Elliot to call both of his parents and try to explain how lonely and isolated and rejected he felt, which led them to set up an appointment with a psychiatrist named Dr. Sophy. Dr. Sophy set up Elliot with a male counselor name Gavin who was a few years older then himself, who he would meet with regularly when visiting his parents. When he was back home he would attend sessions with him. Eventually they setup a series of hired "skills counselors" to meet with in Santa Barbara, which he described as "paid friends." The first was a younger guy that he despised, and the second was a slightly older woman who he looked up to, but resented the fact that she was only there for a job. "It has the same effect as hiring a prostitute, I imagine. It temporarily feels good for the moment, but afterward it makes one feel like a pathetic loser for having to hire a girl when other men could get the experience for free." Not long after the woman had to move from Santa Barbara, ending their sessions. There was one final intervention with the psychiatrist, in which Elliot was prescribed Risperidone, an anti-psychotic, but he refused to take it, and the visit ultimately ended in failure.
The final straw appears to have happened during the fall of 2013, following the incident where he was drunk and assaulted an Asian man at a party. After leaving that party he tried to push several women and a man off a ledge onto the street, only to himself get pushed off and injuring his foot. He starts to drunkenly stumble away, only to realize he lost his expensive glasses, at which point he turns around, drunk and lost, shouting at people about his glasses. This will be the first, and last time, that he will get into an altercation before the day of the attacks, and ultimately leads to a trip to the hospital and a cast on his foot for the rest of 2013.
"The people in this house must have been friends with the ones I previously fought with, for they greeted me with vicious hostility. They called me names like "faggot" and "pussy", typical things those types of scumbags would say. A whole group of the obnoxious brutes came up and dragged me onto their driveway, pushing and hitting me. I wanted to fight and kill them all. I managed to throw one punch toward the main attacker, but that only caused them to beat me even more. I fell to the ground where they started kicking me and punching me in the face. Eventually, some other people from the street broke up the fight. I managed to have the strength to stand up and stagger away."
This event, by his own accounting, was the final nudge required to push him completely and finally over the edge of insanity.
"The highly unjust experience of being beaten and humiliated in front of everyone in Isla Vista, and their subsequent lack of concern for my well-being, was the last and final straw. I actually gave them all one last chance to accept me, to give me a reason not to hate them, and they devastatingly blew it back in my face. I gave the world too many chances. It was time for Retribution."
The time from here forward was spent in recovery, planning for the final showdown. And since his original plans to enact his plan had to be pushed beyond that fall due to the injury, he had an additional six months to plan out and devise his attacks. During this time he not only begins his plans, but also convinces himself that he must hill his younger stepbrother Jazz, as he might become successful and find a girlfriend, his stepmother Soumaya, for her many insults to his honor and status, and his new roommates, both of whom were Asian. In his final pages of his manifesto he outlines his plans for a three part slaughter, starting in his room, moving to a sorority, and ending with a mass killing spree on Del Playa. "I am Elliot Rodger… Magnificent, glorious, supreme, eminent… Divine! I am the closest thing there is to a living god."
The last moment of intervention comes when he uploads a series of video between the end of April and the middle of May, which sparked his mother to call health services, who in turn send a squad of police to his apartment to check on his mental state. Through a clever act of deception he convinces them it was all a misunderstanding, and pulls the videos off of his YouTube account, fearing he had nearly foiled his own plans prematurely. "If they had demanded to search my room… That would have ended everything. For a few horrible seconds I thought it was all over."
All we can say is, if only…if only his parents had intervened sooner. If only that had left home sooner in their failed last-minute attempt to intervene . If only the Santa Barbara police had been more aware. If only years of red flags had been payed attention to. But that is all they are, if only's…
Concluding Thoughts
The conclusion I have come to in processing what happened, and I am sure there is still much more dirt that will appear in the coming days, is that this is one more sad episode in the slow implosion of modern civilization under the logic of late industrial capitalism, white supremacy, patriarchy and social stratification. Elliot Rodger is a product of this culture. To truly understand the twisted logic of Elliot Rodger is to understand the logic which sustains the modern world, a world founded on rape, murder, and indiscriminate violence–mostly by white men against women, gender non-conforming peoples and people of color. While Elliot himself was mixed-race, the worldview and values he espoused and put into practice are those of the worst colonizers.
"The ultimate evil behind sexuality is the human female. They are the main instigators of sex. They control which men get it and which men don't. Women are flawed creatures, and my mistreatment at their hands has made me realize this sad truth. There is something very twisted and wrong with the way their brains are wired. They think like beasts, and in truth, they are beasts. Women are incapable of having morals and thinking rationally….Women should not have the right to choose who to mate and breed with. That decision should be made for them by rational men of intelligence. If women continue to have rights, they will only hinder the advancement of the human race by breeding with degenerate men and creating stupid, degenerate offspring. This will cause humanity to become even more depraved with each generation. Women have more power in human society then they deserve, all because of sex. There is no creature more evil and depraved then the human female."
Sadly Elliot was not alone in holding these views. Even with his death and the ensuing media coverage, the dominant discourse has not about the systemic forces shaping him, a few of which I have tried to trace out in excruciating personal detail from his own narrative. The story of Elliot Rodger is the story of childhood neglect, schoolyard bullying, well meaning but largely absent parents, deep childhood angst, unchecked anti-social behaviors, a deep and abiding social class entitlement, a twisted sexual morality, rampant and unchecked misogyny, racial and ethnic discrimination, homophobia, a fetishization of guns, and a culture of hypermasculinity. These are all structural issues within society, in they came together in a perfect storm in Elliot Rodger. If we learn only one lesson from this incident, it must be that this is a civilizational disease requiring radical social reformation, critical social justice education and dedicated political action. How long will we continue to slide into depravity as a people before we accept the gruesome visage staring back at us through our own children's faces? Elliot Rodger is not our past, he is a taste of the coming future.
Until next time…remember, systemic problems cannot be solved with individual solutions.
Trigger Warning: A trigger warning indicates that the following material may cause psychological stress or trauma due to the associated content or nature of the material. Due to the graphic nature of this story, and the extensive use of direct quotes from the manifesto, many parts of the text could be traumatic for some readers. Please read with care. Back to top.
###