Climate Denial – Theatre of the Absurd
As I noted recently, there's some new data out from several sources showing long-term and historical temperature changes, none of which is encouraging, followed closely by the usual climate denial pr machine. I've spent a lot of hours over the past week reading various climate denial blogs and surfing their networks, as I'm finalizing a paper I will be presenting on Christian fundamentalism and the Anthropocene for the upcoming WPSA Conference in Hollywood, CA. And as anyone involved in this work knows, it's becoming increasingly hard to separate the climate denial movement from Christian fundamentalist movement and their Bible-based attacks on all things green, secular or–well, basically even marginally sane.Two stories are worth noting here in this regard, one is an old but still relevant one from South Dakota, a state that I have been teaching about recently for different reasons (the history of Pine Ridge and the Oglala Lakota). The other story is about a new documentary out in theatres dealing with some of the politics of this denial. Let's begin with South Dakota, since this goes back to an incident from March of 2010.
South Dakota – 2010

As Kate Sheppard recently in Mother Jones (via Think Progress), the South Dakota state legislature had passed a new law (late Feb 2010) calling for what the bill describes as "a balanced approach for instruction in the public schools relating to global climatic change." You can read the full bill text here.
Here's an excerpt from the new law:
"That there are a variety of climatological, meteorological, astrological, thermological, cosmological, and ecological dynamics that can affect world weather phenomena and that the significance and interrelativity of these factors is largely speculative"
When I read this I had to scratch my head. Astrological? Thermalogical? Is that last one even a real thing? It sounds like a new add-on technology to the thermoptics from Ghost in the Shell. Apparently I'm not the only one who had that reaction. I can just see the latest headline: "IPCC Scientists Claim Thermalogical Causes Behind Global Temperature Rise." lol.
Since when did astrology become part of climate science? I must have missed that announcement from the IPCC for a new Astrology Working Group. But seriously, where do these folks get this stuff from anyway? Fortunately, as Think Progress notes, the SD legislature did drop out the "astrological" and "thermalogical" parts, but that there ever found their way into the bill is troublesome to say the least.
Documenting Denial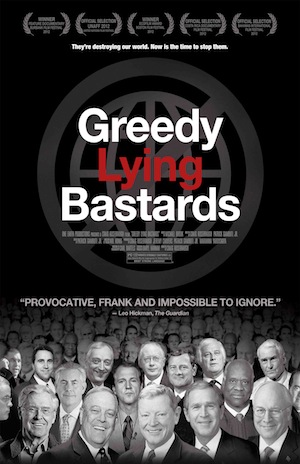 Sadly, efforts like those in South Dakota are part of a much larger project of the religious and free-market right, supported by groups like the Heartland Institute, the American Legislative Exchange Council (ALEC), and the Cornwall Alliance, all leaders of the ultra-right political coalition trying to turn the globe into a crony capitalist cesspool for US multinationals.
My own research has been more focused on groups like the Cornwall Alliance, who are one of the leading organizations behind a particularly conservative, fundamentalist religious movement pushing this argument. They use the Bible to legitimate a "Dominion Mandate" over the planet and all forms of life, while simultaneously attacking all forms of environmental activism critical of free-market ideology as un-Biblical, sinful, dangerous and outright evil–or what they have taken to calling the "Green Dragon."
If you prefer to hear it in their own words, here the text from the voice over to their promotional video for their "Resisting the Green Dragon" initiative, which I have been writing about:
In what has become one of the greatest deceptions of our day, radical environmentalism is striving to put America and the world under its destructive control. This so-called 'Green Dragon' is seducing your children in our classrooms and popular culture.  Its lust for political power now extends to the highest global levels. And its twisted view of the world elevates nature above the needs of people of even the poorest and the most helpless. With millions falling prey to its spiritual deception, the time is now to stand and resist. Around the world, environmentalism has become a radical movement, something we call the Green Dragon, and it is deadly. Deadly to human prosperity, deadly to human life, deadly to human freedom and deadly to the gospel of Jesus Christ.  Make no mistake about it, environmentalism is no longer your friend, it is your enemy.  And the battle is not primarily political or material, it is spiritual.1 (emphasis mine)
And these same groups are now working to get their junk pseudoscience, climate denial curriculum into even more states. Follow the link for more details about their "Environmental Literacy Improvement Act," a classic piece of corporate propaganda disguised as legislation.
While ALEC is working to undermine science education from one side, the Cornwall Alliance is working from another. The Cornwall Alliance is busy attacking the revision of educational standards for science education in the K-12 public school system (Next Generation Science Standards (NGSS)). Alliance spokesman and leading propagandist Calvin Beisner delivered a talk recently called "Public School Science Standards: Political or Pure?" at the 24th Annual Educational Policy Conference of the Constitutional Coalition in St. Louis. Here's an excerpt of his opening remarks on science education, to give you a sense of their attack on science standards:
For generations America's public schools have indoctrinated our children with the dogma of Darwinism: life arose and developed by chance, no Creator involved.

 Now they're poised to indoctrinate them with another dogma: catastrophic anthropogenic global warming (CAGW)—and with it a whole catalog of other exaggerated and sometimes completely fictitious environmental concerns, all of them used as rationales for strangling restrictions on personal liberty, property, and the free market, and for instituting socialist, redistributionist policies domestically and internationally. 

Never mind that in both cases thousands of scientists reject the dogma.
There's a new documentary out, Greedy Lying Bastards, which does an excellent job of exposing many of these connection between right-wing think tanks and front groups, Big Oil and climate denial groups. None of this is new to people on the ground working on these issues, but it bears repeating and documenting. And if you're not already familiar with these networks, I'd suggest checking out DeSmog Blog as a useful starting point.
If you're in the NY area, Greedy Lying Bastards is currently showing at a few theatres now, so check it out. As the environmental science data gets more robust, and as the weather gets more wild and crazy every year, the case for the Anthropocene just keeps grows stronger.
---
1Resisting the Green Dragon. DVD 1. Cornwall Alliance. 2012.
Until next time…deny all you want, but truth never goes away.
###