Cement – The Hidden Killer
As Madeleine Rubenstein noted in a recent post at the Earth Institute, one of the hidden killers of the industrial world, as well as a major point-source of CO2 pollution, is concrete and its related production processes:
"Cement is the primary ingredient in concrete, which in turn forms the foundations and structures of the buildings we live and work in, and the roads and bridges we drive on. Concrete is the second most consumed substance on Earth after water.  On average, each year, three tons of concrete are consumed by every person on the planet."
I suspect that most people don't even think about concrete in their daily lives, yet for those of working in various environmental fields, it's hard to get past such all-encompassing modern industrial materials. There are few critical resources that are so embedded in our daily lives as cement–the quick ones that come to mind are hydrocarbon derivatives (such as plastic and gasoline), wood products (lumber, paper, OSB) and iron ore (stainless steel, copper and various heavy metals).
As you can tell from reading the EI post, cement is really a nasty material to base an entire lifestyle on, and it is one that is only growing worse by the year, as all projections have more and more cement in the equation, not less.
I remember growing up around several cement plants, and the sight of those huge conveyor belts and massive earth-moving machines easily comes to mind whenever I think of concrete. And in a more immediate way, the university where I am studying currently is in the process of building a huge new flagship building, and many days when I walk buy there is a non-stop stream of huge cement trucks and long, multi-story pump arms dispensing thousands–more likely millions–of tons of liquid cement every day. And yet somehow this building will still be granted the highest "green building" award in the US, LEED Platinum.
This is all a reminder of just how futile most market-based attempts at capitalist sustainability really are at the end of the day. And this same approach is evident in the supposed "mitigation" strategies offered by Madeleine in her post, which in fact are not solutions at all. Perhaps it is just me, but I fail to see how these are solutions?
"Indirect emissions from burning fossil fuels to heat the kiln can be reduced by switching to alternative fuels, including natural gas, biomass and waste-derived fuels such as tires, sewage sludge and municipal solid wastes. These less carbon-intensive fuels could reduce overall cement emissions by 18-24% from 2006 levels by 2050.

Reducing emissions from the calcination process means looking to a material other than limestone. Blended cement replaces some of the limestone-based clinker with other materials, primarily coal fly ash and blast furnace slag. Blended cement could reduce CO2 emissions by as much as 20%, but widespread use of blended cement is limited by other environmental regulations (these substitutes can contain toxic heavy metals)…"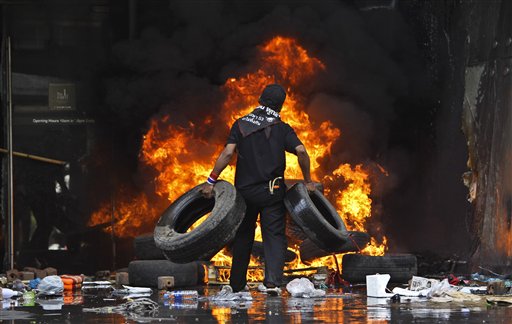 As anyone who has seriously done their homework–and you think the EI folks should be among this list–you know that biomass is not a viable alternative energy source, and neither is gas. We certainly don't want toxic fly ash in our walls, and to suggest that burning tires is an "alternative fuel" to fossil fuels–someone needs to have their head checked out. I can tell you from personal experience, burning tires is not going to fix your "indirect emission" problem, only make it worse! The only viable replacement option in that mix is blast furnace slag.
So if this is really the best solution we can come up with for a solution to a toxic material (more here) that permeates our entire industrial foundation, it's really a sign of just how deep down the rabbit hole we already are, that burning tires can seriously pass as a serious suggestion for an "alternative" source in an EI post on cement and GHG emissions. It is sort of like saying, well, if you want to reduce the toxic effects of smoking Camel wides, you could just switch to Dunhill menthol lights, since there is less tar and nicotine, so it must be an improvement. Ugh. One more example of the failures of liberal environmentalism and triage enviro politics.
Until next time…keep those tires coming, I think I'm finally starting to see straight.
###