Reflecting on May Day – Occupy Needs New Tactics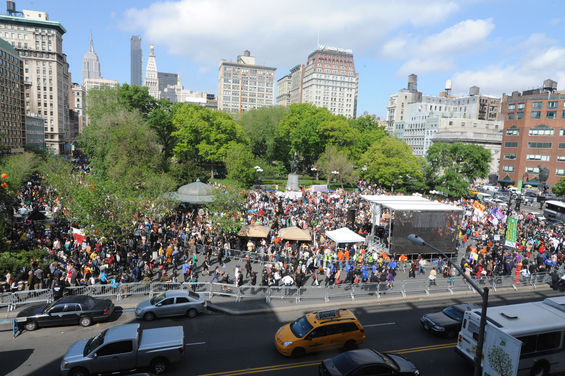 So after a day of marching, rallies, speakers and events here in NYC, what did the May 1 General Strike change? That's the question that's been on my mind since I went to bed last night, and is still with me now. And to be honest, I don't think anything is changed. OWS has shown it can still turn out a sizeable crowd for a major day of action, but it also shows that much of OWS has run out of creative political steam. But most fundamentally, it has exposed two key problems:
Organized labor is not committed to a radical transformation of society along the lines that many in OWS have discussed and pushed for, yet the movement continue to pretend that unions are a make or break alliance
The tactics of OWS have grown stale, predictable and ineffective to the point of almost being comical
If you want further proof for this claim, take a look at what Saki Knafo and David Levine noted in their article for Huffington Post about May Day. This is quoted from an unnamed Goldman Sachs executive. The context was whether Goldman Sachs banks were taking added precautions leading up to May Day, and the answer was no, not really.
""Of course [Goldman employees] are paying attention to it, but less now than previously," said the Goldman Sachs VP, adding that Occupy "had their moment in the sun and I think it faded." The source was skeptical protesters would actually be able to shut down the bank, saying, "They're so obvious when they try to get into our office. They have dreads and they haven't showered in days."
When a VP from Goldman Sachs can smugly predict the frivolity of OWS actions, and effectively write the OWS movement off as "faded" –without any serious challenge–it's indicative of a deeper problem and should be a wake up call to us all. Why did organized labor refuse to endorse the General Strike? Why were we unable to disrupt business as usual? Why is Goldman Sachs no longer worried about OWS? I would argue it is because we have hit a "movement plateau."
Movement Plateau
By a "movement plateau" I mean that we–and here I am speaking of Occupy broadly, and NY OWS in particular–have reached a point where we can go no further in terms of effecting deeper societal change with our current tactics, at least as long as the political climate remains nominally the same. In other words, the tactics of OWS are stale and we're losing effectiveness and momentum because of that. More importantly, unless we are able to overcome some of these hurdles between now and the fall, it's not clear that the Occupy movement will be able to sustain a meaningful leftist political movement that can pose a serious challenge to the state and establishment politics.
This is a problem every social movement has to face at some point in its trajectory, and in many ways this plateau is the make or break point of a movement. If successful, a movement will overcome this impass with innovative tactics and a healthy dose of creativity. If is is unable to do this, it will continue to do the same old thing until enough people lose interest that it peeters out with a whimper like a stray cat dying of feline leukemia in some Willimasburg back alley.
So what does OWS need to do differently? That's a much longer post that I won't get into here, but let me at least hint at a few ideas that should be considered:
OWS is good at getting people out on the streets, but bad at doing anything creative once people are there. More dynamic street actions are a must!
Puppets, puppets, and more puppets. For a huge march with 1000s of people, I saw less than 4 puppets in the whole march, and nothing of any substantial size or quality. Oh for the days of Bread and Puppets…
Music. OWS needs to get their act together in terms of music, chants and songs while on the street. Any good movement needs music to inspire the crowds, and with the exception of some occasional drum groups, the marches were amazingly bland in both music and chants.
Tactical creativity. OWS needs to stop following the metal barricades put up by the NYPD, period. This is our city, and the march needs to prove that. Which brings me to the final point.
Confrontation. Right now OWS seems unwilling to seriously confront he police state apparatus of the NYPD except in word. If we are going to break out of the stagnation we are at–the movement plateau–it will mean escalating confrontations with the NYPD, there is simply no way around that. And for all those peacnik types who foreswear confrontation for the sake of "principled nonviolence", it's time to pull your heads out of your ass and wake up. Principled nonviolence is meaningless with the NYPD, because there are no principles on their side to respect your principles with. That doesn't mean we should start attacking the NYPD indescriminately, but it does mean we are going to have to raise the stakes. That means turning metal barricades into bulldozers to push NYPD lines back, increasing tear gas and pepper spray, and more arrests and hospitalizations for our side. If we seriously think we are going to challenge Wall Street by playing along with the NYPD kettle and corral rules, we're idiots. We might as well just stop wasting our time with street actions, because they will never work and only waste time and energy.
May Day Not All Bad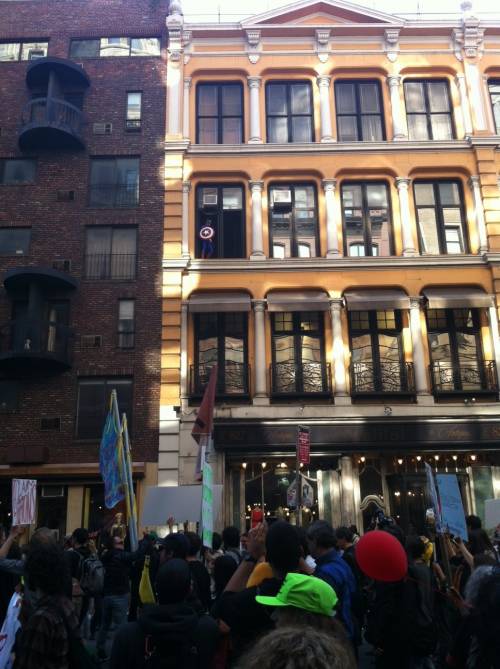 Lest I end this post on a down note, there were some great things about May Day 2012. The two personal highlights for me were the performance by Immortal Technique at Union Square and seeing Captian America standing in a balcony cheering on the crowd. I'm still editing the video I shot from the day, so I don't have a better version of Captain America, but the Village Voice managed to snap a shot of him (look for the 2nd story blacony and the round shield).
As one of the Catholic priests marching near my commented, there was a beautiful irony about this scene, as the guy wearing the Captain American costume appeared to be of Asian descent–there's something about an Asian-American Captain America that reflects the spirit of OWS perfectly.
Along with that was a surprise–at least to me–performance by one of my all-time hip-hop favorites, Immortal Technique. Besides being one of the most on-point political artists of our generation, he produces some amazing music, including his latest free album, The Martyr (get it here). Although it was a short set–3 songs basically–it was the first time I had seen him in person performing, and it was a real treat. This was especially the case since Das Racist, another group I really like performed before him, but put on what I would consider a terrible show. They sounded terrible, out of synch and were not singing anything remotely political or relevant to OWS, whereas IT was on point with every song. It just goes to show that not everyone in hip-hop still has the street cred that the movement started with so many years ago. Here's the video from Immortal Technique. (Sorry about the poor quality, the HD version is still being uploaded).
 Immortal Technique live @ Union Square
Finally, the highlight of the day, which I missed as I was busy earlier in the day, and then at Union Square and marching later, was the slate of events put on under the name Free University in Madison Square Park. The event featured the likes of David Harvey, Drucilla Cornell, Francis Fox Piven, and David Graeber among many others.
"This day-long Free University is being conceived as a form of education strike in which we, a city-wide coalition of students and faculty, will simultaneously withdraw our labor from an increasingly privatized, securitized, and exploitative educational system and redirect our energies towards a vision of what education could be. The May Day strike and Free University will intervene in a dysfunctional, inequitable, and inaccessible system and will offer instead education that is open, free, and accessible to all. It is a strike against all forms of oppression and the perpetuation of class, racial, and gender inequalities within the contemporary universities. It is a strike which demands an educational system that actually serves the public's needs and desires. It is a strike against the rising and unmanageable burden of national student debt. And above all, it is a strike which envisions a world in which students, educators, and the wider public may become decision-makers in their collective future."
Everyone I talked to said the events at the FU were really good and that the New School had a good showing of participation, which is encouraging, and indicative of the direction that I think OWS needs to be going if we want to really make progress. It's also the creative and non-institutional type of organizing that makes OWS unique and powerful, and which should be cultivated much more, so kudos to everyone who helped make the Free University happen.
Until next time…keep it fresh, mix it up, keep them guessing.
###