The Visual Politics of HIV and AIDS – 1980 to 2012
The Politics of AIDS and HIV
1981 is often pointed to as the start of public awareness about HIV and AIDS, marking the beginning of what would be called a human health pandemic by some public health officials. As a brief reminder of terms:
AIDS: Acquired immunodeficiency syndrome
HIV: Human immunodeficiency virus
AIDS is linked to HIV's slow attack and eventually debilitation of the human immune system beyond recoverable levels. When that happens, AIDS manifests as the final stage of a war between viruses and our body (for example, CD4 T-cells). As one description of the virus suggests, the process is similar to a viral siege against our immune system, weakening our body until finally we fall victim to the slightest sickness or virus:
"HIV doesn't target just any cell, it goes right for the cells that want to kill it, i.e. the monocytes, macrophages, and Helper T-Cells. Once HIV infects these cells, T-Cells come along and destroy those infected cells, thus one's own body is killing off the mechanisms needed to destroy the virus. The virus can infect 10 billion cells a day, yet only 1.8 billion can be replaced daily. Thus, after many years of a constant battle, the body has insufficient numbers of T-Cell to mount an immune response against infections. At the point when the body is unable to fight off infections, a person is said to have the disease AIDS. This means that it is not the virus or the disease that ultimately kills a person; it is the inability to fight of something as minor as the common cold."
As the 1980s progressed, AIDS activism slowly increased, rising to a fevered pitch my the late 1980's as AIDS activist groups and political actions began to capture more public attention. Part of this was due to the growing visibility of activist groups who were forming at this time, including groups like ACT UP, Queer Nation and Gran Fury. Perhaps one of the most iconic images of this period was the inverted pink triangle and the words Silence=Death which ACT UP released in 1986. For more images from Gran Fury and others, check out the AIDS graphics page from the Queer Cultural Center.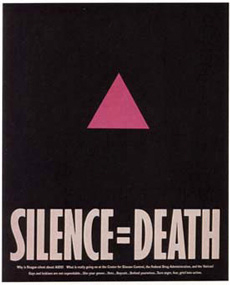 Magic Johnson and AIDS
As more people became aware of the AIDS virus, AIDS began to force its way into American health and medical politics. As seen in such examples as Magic Johnson (below 1991), the famous star player of the LA Lakers, this was not just a gay subcultural things in places like San Francisco. Slowly people began to take the issue more serious. As Earvin "Magic" Johnson said:
"I think sometimes we think, well, only gay people can get it – it is not going to happen to me. And here I am saying that it happen to anyone, even me Magic Johnson."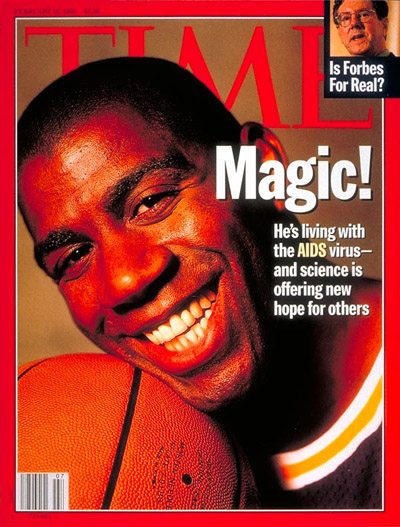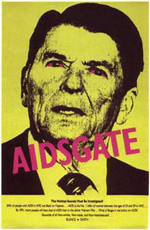 With the rise of deaths from AIDS in the late 80's, and the growing talk about an "AIDS Epidemic," more attention and political actions began to gather around fighting and treating HIV and AIDS. Groups like ACT UP, Queer Nation and Gran Fury took the fight for AIDS awareness and queer politics straight into the heart of American politics, building off the earlier waves of 1960's direct action politics.
This increased attention led both to more public attention and awareness about HIV and AIDS, but also to more discrimination against the LGBTQ community, especially as conservative Christian political movements began to gain power in the US and launched their "culture war" against the homosexual lifestyle. This growing backlash from the emerging New Right political conservative movement, as personified in people like Ronald Reagan, Pat Buchanan and Jerry Falwell, soon became a central target of the fight back from groups like ACT UP.
"AIDS is not just God's punishment for homosexuals; it is God's punishment for the society that tolerates homosexuals." – Jerry Falwell
By the beginning of the 1990s, the political debate over HIV and AIDS was popping up in in various public spaces. One such example occurred on the Arsenio Hall Show when a group of Queer Nation activists disrupted one of his evening comedy shows. For those too young to remember, Arsenio was a popular black stand up comedian.
Arsenio Hall and Queer Nation (1991)
In an interview with Entertainment Weekly roughly one year later, Arsenio talked about the incident above and his response to Queer Nation. Here's what he had to say:
"EW: I guess this leads to the issue of how gay activists have reacted to you. Queer Nation criticized you for being homophobic, and you spent a lot of airtime fighting with Queer Nation members when they heckled you.
AH: Attacked me. But go ahead, ask.
EW: Are the people who have attacked you for telling anti-gay jokes right on some level? And do you think this video will mend any fences?
AH: First of all, will it mend fences with Queer Nation? I don't care. I know I should probably fence-sit on this, but I'm going to tell you how I feel. I approached that evening the way I did because they were wrong. I wasn't about to go to a commercial. I felt violated, so I fought back.
EW: Violated how?
AH: If I treated them the way they treated me, I'd be a gay basher. I'm a comedian, and I'd be the first not to do a joke if I felt it created some kind of pain for someone. I am not a callous, heartless comic. I grew up watching the greatest comedians — Bill Cosby and George Carlin — going after the fat cats and the Establishment. Don't get me wrong — I've apologized for many things. But I will not apologize to Queer Nation. The joke they were mad about [in which Hall referred to San Francisco's Gay Pride parade as "Gay Country Safari," and said heterosexuals would roll up their windows and lock their car doors] was about homophobia. My approach was pro [gay].
EW: What about their criticism that you don't have enough gay guests?
AH: Do they really believe that I am in my office saying, "Homosexual? Let's hold off on that guy"? They're out of their minds. And furthermore, this is my damn show. You get a show if you want to book it. It's not my responsibility to introduce certain comedians and singers as "Ladies and gentlemen, a very funny man, and a homosexual, put your hands together for…"
Maybe people within the gay community want to live their lives privately. I have friends who feel that it would be a terrible assault on their career if people knew they were gay. I can name you five singers who are gay and have women crazy about them, and they feel they would be discriminated against. The Advocate had a thing saying, "Arsenio Hall seems to be having more gay people on," but the idea was, "We're watching him." Watch my black ass! You have to understand — everyone who's gay does not follow Queer Nation. I have hardworking friends who are activists for gay rights who believe that that approach is detrimental to the gay community, because what America sees on the news is violence and anger. There is a way to do it without ostracizing people who could be warriors on your side. As far as my being homophobic is concerned, that's ridiculous. If I were homophobic, I'd lose half of my staff and a lot of my guests. It's as simple as that."
But to really understand the height of AIDS activism, we need to look at ACT UP in New York, and some of the major escalations that were taking place right at the end of the 1980s.
New York and AIDS Politics (1989)
But there have also been more recent efforts to bring the message of AIDS activism forward, but now the message is not so much about an AIDS epidemic, as it is about eradicating AIDS and HIV with new antiviral medicines, perhaps best personified in the ONE Campaign, a large international corporate and NGO campaign around poverty and diseases, of which AIDS and HIV advocacy is a part.
And as these campaigns grow bigger and more well funded, we start to see things like the [RED] Campaign and the ONE Campaign take AIDS and HIV visual politics to a new level. In light of the earlier politics of groups like ACT UP and Gran Fury, is this a normalization of HIV and AIDS activism, or a weakening of the more militant edge that came with street protests and direct action? Here's a perfect example, the One Campaign. If you stumble upon their YouTube page, you will see the following banner above their video feed.

When you click the banner (click the one above), you are taken to a petition page where you can sign the letter which will be sent to you Congressperson (presumably). The last time I checked, the petition had 36,449 signatures. The text of the petition reads:
Dear Congress,

Make the beginning of the end of AIDS a reality. Reverse budget cuts to the life-saving AIDS program PEPFAR and fulfill our commitments to the Global Fund to Fight AIDS, Tuberculosis and Malaria.
For those not familiar,
PEPFAR
is the U.S. President's Emergency Plan for AIDS Relief, which is a program that was started in 2003 by GW Bush and which Obama has also supported. Congress funded PEPFAR in 2008 to the tune of close to $48 billion for 5 years. For those interested, you can read more about the
political strategy of PEPFAR here
. So in short, the funding from 2008 is either running out or being cut (probably a mix of both), and the One Campaign is trying to get more money for it. You can read the One Campaign's
"Issue Pitch" on PEPFAR funding here
. So the One Campaign is a good example of a slick use of both social media and political figures–in this case famous actors, musicians and other public figures–to build support for HIV and AIDS. But the trade off is that you get the message that:
"Action. Speaks. Louder."
but all you are presented with in terms of involvement is to fill in a few blanks on the website and click Submit. Hardly a radical mobilizing tool.
The One Campaign
I'll leave it up to others to make up their minds about the political shifts and the question of normalization and radicalization. We can certainly say that more attention and support for HIV and AIDS awareness and prevention is a good thing. The question for me is more to do with the speed of change and the best way to get there. With that in mind, the following interview with filmmaker and activist David France about his new film, How to Survive A Plague, is a useful retrospective not only on the politics of this period, but more importantly, the importance of historical memory and the legacy of political struggles.

How to Survive A Plague: a 2012 AIDS Retrospective
And for those interested, this extended interview with David France after the Sundance screening is really good, as he gets into more detail about the production and politics of the film, and the legacy of HIV and AIDS activism on model health debates and politics. Particularly interesting in light of the ongoing debates right now in the Supreme Court over President Obama's health care plan.
How to Survive a Plague expanded
###