In Defense of Assata Shakur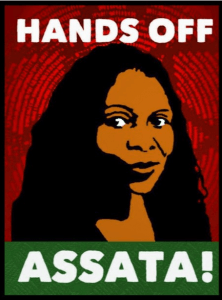 Earlier this week the FBI announced that they were elevating Black Liberation Army (BLA) and Black Panther Party (BPP) activist Assata Shakur (formerly Joanne Chesimard) to their 'Most Wanted Terrorist' list of domestic suspects, making her the only woman in history to have such a designation, and the second US citizen ever to be added to the list. The timing, coming on the 40th anniversary of her alleged killing of a NJ cop, reeks of FBI Cointelpro 2.0, and has the PATRIOT Act, police state and prison-industrial complex slime all over it from head to foot and back again.
Assata Shakur, aunt of the famous rapper Tupac Shakur, has been a thorn in the side of the racist US government since before I was born–as you can see from, the original 1973 FBI wanted poster below. She was a leading Black thinker and activist during the height of the Black liberation struggles of the late 60's and 70's, and continues to be a brilliant and outspoken radical from her home in exile of Cuba. She continues to argue she is innocent. You can read the response of her lawyers to the FBI charges here.
So why the sudden announcement and elevation to numero uno? Besides the 40th anniversary date, which is totally arbitrary–there is no conceivable reason to suddenly elevate her to the 'Most Wanted Terrorist' list while claiming, as the FBI did this week, that she is "a supreme terror against the government," who calls for "revolution and terrorism" and that the FBI was "pleased and honored" to be raising the bounty on her head. After all, let's be clear–that's what this is, an Wild West-style Dead-or-Alive kill order with a 21st century price tag for a bounty. They're offering a $2 million dollar reward for her capture, but Cuba still refuses to extradite her. We should be glad Cuba is on the right side of the political fight in this case, and back in 2005 Castro said of Assata: "they wanted to portray her as a terrorist, something that was an injustice, a brutality, an infamous lie," a point as true today as it was then.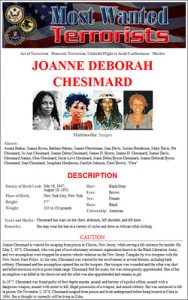 So the FBI wants us to believe that an exiled 65 year-old Black radical living peacefully in Cuba poses a "supreme terror" to the US? Why? Because she is still critical of the racist US military-police state? So what? So are millions of us. Yet somehow Wall Street bankers stealing billions from the economy? No problem. NYPD pigs executing hundreds of Black and Brown youth on our streets? No problem. US military officers calling in done strikes on civilians in Pakistan and Afghanistan? No problem. As the UK Independent reports about the original trial back in 1977 for the supposed killing of a NJ state trooper:
In 1977, she was given a life sentence for several crimes including first degree murder. "I don't even want to call it a trial, it was lynching, by an all-white jury," Chesimard told the BET TV network in a rare 2001 interview. "I had nothing but contempt for the system of justice under which I was tried."
Joseph Lowndes has a great short piece talking about why we should all pay very close attention to this case, and speak up in defense of Assata loud and clear and immediately. Over at Huffington Post he writes:
Second, the legal and rhetorical framework of terrorism being used in this case strengthens the U.S. state's ongoing and intensifying campaign to threaten, harass and detain not only Muslims and Arabs, but antiwar, and green activists. Shakur was given the designation of "domestic terrorist" under the Patriot Act in 2005, and a glance at mainstream news stories on the Shakur case right now shows the casual interchangeability of the terms "militant" and "terrorist," turning the domestic racial conflicts into an open war by the United States against oppressed groups inside its borders. The authority of federal agencies to wield military power against U.S. citizens, which has become more common under the Obama Administration already, is deepened by turning Shakur into a symbol of demonic power. Such militarization also reflects the full realization of a carceral state that has enormously expanded in the last two decades, imprisoning more people than any country in the world, both per capita and in absolute numbers, with vast over-representation by black and brown people.
You can read an analysis of the legal issues from McClatchy DC here, which touches on some of the possible implications–which they argue are not really any different–as well as some of the historical context of Black liberation struggles, the FBI and drones, and the connections with Cuba. It's an interesting read. But to really appreciate the danger that Assata Shakur poses to the US, which is an intellectual one, not a criminal one, you need to hear her in her own words.
Until next time…No Justice, No Peace, Fuck the Police!
###