Travels in Nepal – Part I
This is the first time I have had time to really sit down and catch my breath since arriving in Nepal almost a month ago. It has been literally non-stop since we arrived on the 13th of October in Kathmandu. After a few days of busy meetings we set off for Simikot, via Nepalgunj, for our adventures in Humla, the far northwestern region of Nepal.
For those not familiar with Nepal at all, it is located between northern India and western China geographically, and the northern 1/3 or so of the country is crossed by the Himalayan mountain range. So there is basically a lowland area (called the Terai), followed by a mid country and then high altitude mountain areas which form the southern edges of the Tibetan Plateau.
Kathmandu was a lot like New York before we left. Fallish, but a bit warmer, although with the freak cyclone in the region just as we arrived brought more rain and cold weather than was usual for that time of year. Nepalgunj, where we flew into, is hot and sticky like northern India, and Simikot was cooler, with snow-capped mountain surrounding it thanks to the early cyclone snowfall.
Flying into Simikot is an experience unto itself. You literally fly just above the mountain ridges, and then bank and swoop down and land on the flattened ridge of one of the many mountains in the area. If you don't believe me, check out this photo looking down onto Simikot with the landing strip spread out across the land.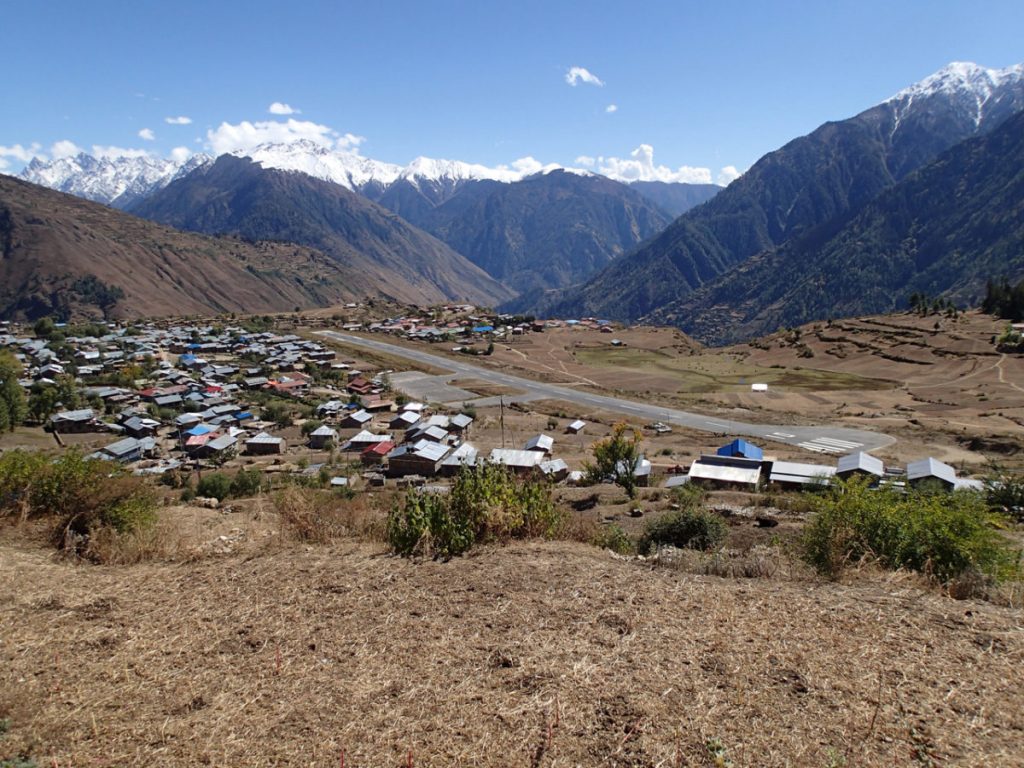 Although flying into Simikot seems like a fools errand, the pilots were actually great, and the landing and take off were both super smooth, much more than many a huge commercial jet landing in JFK or similar. Although I suspect having a smaller plane with 12-15 people makes for lighter, smoother sailing. Either way everyone held their breath a bit when we first saw the landing strip from the air.
There have been so many different adventures during this trip that it is hard to know where to start. I could mention meeting Thomas Kelly, the author of The Hidden Himalayas, at his home in Kathmandu. Flipping through his book while he recalled stories of taking the photos, or notified us of which dhami (mountain shamans) in the photos had since passed away (more than a few, to my surprise). I could talk about sleeping in a stone room perched on the side of a mountain, built perhaps as far back as the 11th century, as a Buddhist (lama) meditation site. I could also talk about the evening we slaughtered a goat as part of our preparations and associated rituals to decide if we should cross Nyaru La, a high mountain pass (5000+ meters) that was covered in snow and a few days walk away (the ultimate decision was no, it was too dangerous).  Or I could talk about sliding down a steep vertical face of sliding rock and dirt, hundreds of feet above the Karnali river at Hilsa, alongside the Chinese military checkpoint, in the dark. Or I could talk about seeing an 11th century monastery in the village of Halji, where I saw some of the most amazing Buddhist murals, paint fading and cracking in the dim candle light, ritual masks hanging from wooden posts and sacred texts tucked into the shelving on the side walls. A place with hidden rooms full of gigantic statues of smiling and growling deities alongside ancient religious relics and yesterdays fruit and money offerings; a place lost to time and all but a few dozen families in the corner of a corner of the world. I could mention the natural hot springs that functioned as our only real baths for the 17 days on the trail, or the sublime joy of Tibetan yak buttermilk tea and Nepali Dal bhat meals.
Eventually I will write about all of that, but not now, not yet. Everything is still too fresh and raw and new, not yet ready for digestion and analysis and interpretation. Not yet. For now I still have a few brief days to savor being in this new place, where everything is both overwhelming and strangely serene, even in the heart of the madness of Kathmandu, the tourism mecca known as Thamel.
Here are a few of the images from places I referred to above, just to give you a little glimpse of what I am referring to. It's truly hard to describe the feeling of walking over a mountain pass after a long day of hiking and seeing what looks like a medieval stone fortress sprawled up and down the hillsides as far as one can see, with rolling plains and fluttering prayer flags dotting the landscape. It really felt at times like we had stepped through to another world–but only just for a brief second. The new dirt roads and Chinese trash and Nepali songs blaring from cell phones and knock-off American clothing labels worn thin from continual use reminded one we were not that far from the rest of the world. After all, how far away can you get with only a week of walking. The world is really a big, small place.
This slideshow requires JavaScript.
Special thanks to my friend Amanda, who took some of the pics in this gallery, including the amazing portrait of the dhami from Simikot.
Until next time…don't forget to be alive. There's too much madness in the world.