Mr. Chris Goes to Cleveland – Part IX: The Girl
Well gentle readers, we've finally made it to the end of my Cleveland adventures. This is the final chance to squeeze all the marrow out of life's receding memories and attempt to hold onto another year's worth of memories to keep me going. With that in mind, I want to end on an optimistic yet slightly forlorn note about friends and strangers. While this might seem like an odd way to end a travel log, I think in many ways it captures the feeling I had as I left Cleveland, and in that sense is a more accurate reflection of my time spent there as I was departing.
As you might have guessed from the post, this last entry is indeed about a young lady I had the pleasure to meet while in Cleveland. For the sake of virtual modesty and to add a bit of intrigue, I'll simply refer to her as "the girl," and let those in the know smile to themselves. Our encounter was one of those twilight moments when you're not sure if you are awake or dreaming, but rather than ruin the moment by trying to decide, you instead just enjoy it.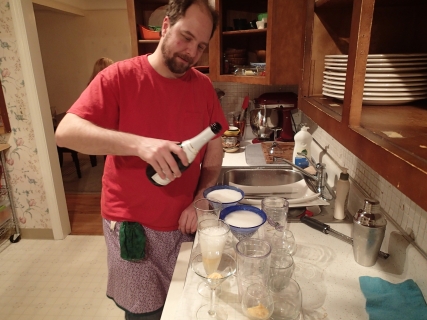 Is there such a thing as star-crossed visitors? If so, I think I know a bit of how it feels now. The feeling is like being passed between a set of powerful magnets that are simultaneously pulling and pushing you in two directions at once. One one hand, there is the knowledge that you are a wayward traveler, a wanderer of the night who is only passing through town momentarily, like a snowflake on crisp morning snow. Yet at the same time you feel a powerful desire to bask in the warm feelings of friendship, and perhaps even attraction. Those two poles–the departing traveler and the lingering fool–were precisely where I felt torn between in the final days of my Cleveland adventure.
We met by accident, in a sense, but also by good fortune. My friends are generally good judge of character, and I suspect this girl sensed there was a common bond lying unexplored when they first met. Although I don't know the full circumstances, I gathered that these three–my friends and this young lady–had much more in common than strangers would have guessed. As it came to be, they did in fact hit it off, which is how I came to make her acquaintance.
Everyone tells you that first appearances can often be deceiving, and I think this rings true of this particular young lady. Without any introduction or connection with my friends, I'm pretty sure we not only would never have met, but I probably would have walked past her on the street like so many other strangers in a New York day. But this wasn't New York, and we weren't passing strangers on the street. We were friends of friends meeting in the company of friends for a celebration–New Years to be precise.
I remember jokingly inquiring with Sabrina prior to their New Years party about whether this girl in question was single and possibly cute, and Sabrina giving me one of those "what have I told you about hitting on my girlfriends" look that I will always love her for. I promised to be good, and continued helping with the party prep, now all the more intrigued about who this mystery lady might turn out to be. I knew she was young, a good bit younger than the three of us, and was also a single mother with a son around the same age as their son Will, which was part of the reason they had met in the first place. Hmmm, a young single mom, that's a new one I thought to myself. Most of our friends are either single and childless or married and with kids, but not much in between. I blame it on the 30-something power that is the Pandorica–once it has you it is hard to get out.
When she finally walked in the front door that evening I was caught off guard. The juxtaposition of a short figure framed by a head of long and luxurious blond hair was not what I was expecting, although truth be told I didn't actually know what to expect, and caught me off guard. This first impression was immediately followed by an overpowering wave of perfume that glided in like smoke along a freshly lit pine log, announcing her entrance to the party like some silent herald in a royal court. Now doubly off guard, my interest was piqued.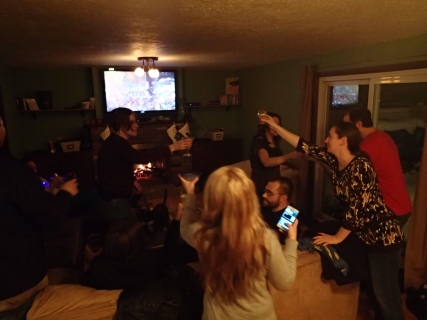 That night we had a chance to talk briefly during the party a few times, but nothing substantial, and I didn't feel any need to push for her attention. But as the evening came and went, and our hosts gradually said goodbye to one group of party goers after another, we found ourselves the last two people in the front room by the fireplace. Sabrina announced we could both stay and that she was heading to bed. We continued talking after our hosts went to bed, and one conversation turned into another. Before I knew it the clock was past 3am and we were sprawled out on the large sofa complex next to each other. Finally the combination of sleep and the doggie back home called her off to her palace, and she bid me a good night and departed.
By some good coincidence Sabrina, Ryan and I had made plans earlier in the week to go and see Les Misérables, which I have already written about here. This young lady had come back over that same day for a play date between the boys, and since they had already made arrangements for a babysitter, they decided to ask her to join us, as we could leave her both with Will and the babysitter. She gladly accepted and the boys were quite happy to have a whole evening to hang out and taunt the babysitter, so everyone except perhaps the dog Shadow was thrilled.
The evening included a dinner and a movie, and I couldn't help shake the feeling that I should be on a date, and it felt like we could have been on a date. But in reality it was a married couple and their two single friends out for dinner and a movie. It was a somewhat surreal feeling, but one that was quite fun, since I can't remember the last time I was on anything even vaguely resembling a double date or even double adult group night. I miss the feeling of a warm body next to me in a movie, or across the table at dinner. Ah, New York, will you be the death of me and my romantic life yet–a double irony in the city that never sleeps!
Sadly our adventure together ended with those fond but too brief moments. I returned to my life in New York, and she to her life as a single working mom in the suburbs of Cleveland. On a few occasions afterwards I have found myself wondering how I could try and get back to see them more, but I always come up blank. So it appears my visit was nothing but a fairy tale moment, and when the clock struck midnight, I departed back to my distant land, leaving the princess in her suburban castle. Well, maybe that's a bit much, but you get the idea.
So to my new found friend, I miss you, and hope you are well. I can only hope our paths will cross again soon. And thus ends the chronicles of my adventures in Cleveland. I hope you have enjoyed the stories. Only time will tell if this story has a happy ending, or any ending at all. For now, all I can do is continue dreaming.
Until next time…farewell.
###