NYPMcD – Is Three Strikes You're In For Real?
[
!Update 1pm!
]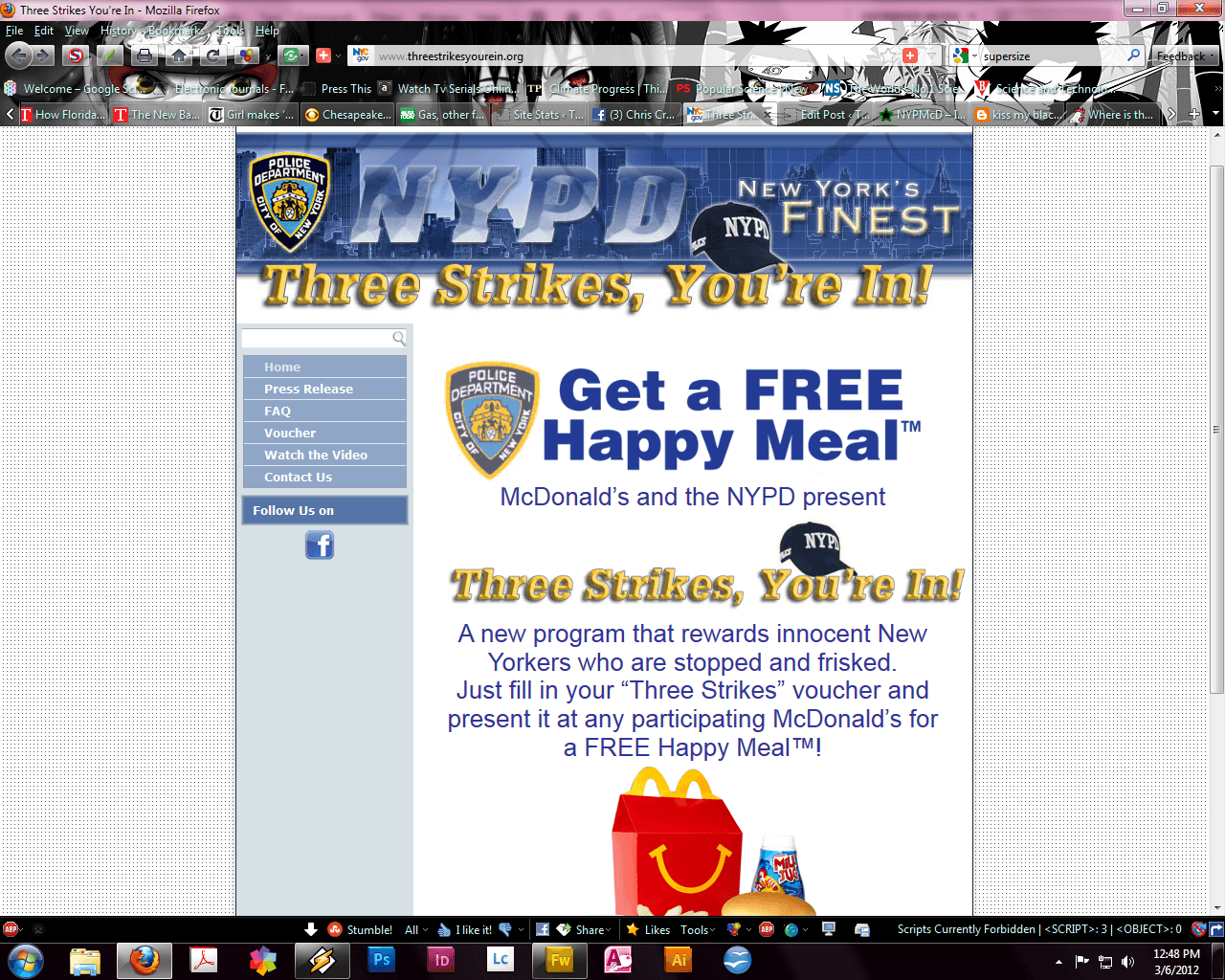 Since I posted this article earlier this morning, BlueHost has shut down access to this domain (threestrikesyourein.org), I'm guessing due to a lawsuit or threat of lawsuit from either McDonalds or the NYPD–take your pick. I managed to archive most of the site before it was pulled, and I'm putting a copy of it up here for others to check out. NYPD or McDonald's, f- you and your attempt at internet censorship!
So I just got a rather unusual e-mail this morning, apparently sent by the McDonald's 365Black campaign. The e-mail was announcing a new partnership between McDonald's and the NYPD which offers anyone stopped and frisked three times a chance at a free Happy Meal! At first, I thought this must be some Yes Men style agit-prop. Surely McDonald's and the NYPD are not trying to spin Stop and Frisk into a social good now, especially given the recent heat the NYPD is taking for both Stop and Frisk and revelations of massive illegal surveillance ops of Muslim communities in New York and New Jersey…surely not, right? Right. If you guessed it's a clever hoax, give yourself a star. But a very clever hoax at that.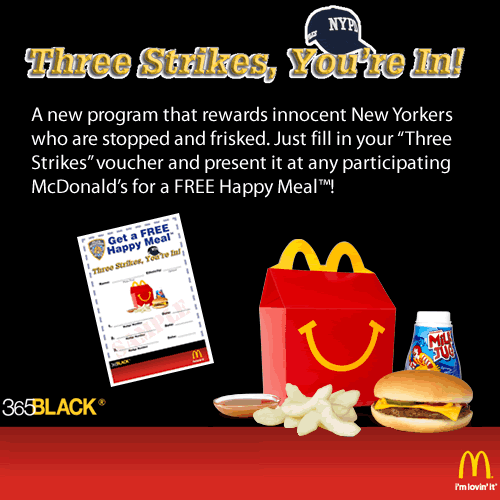 In case there was any doubt, #4 in the FAQ sections was a dead giveaway:
4. What if I have a criminal record?

"Three Strikes, You're In" is a program for innocent, up-standing New Yorkers who have no criminal record.
There's some good reasons people might not think this is a hoax. For example, over at Kiss My Blacks Ads, folks had some serious critiques of past 365Black ads, and rightly so, given some past McDonald's ads. And they rightly point out that McDonald's past experiences with racial politics and advertising have been less than stellar–and that's putting it mildly. Here's the accompanying video that was produced with the "Three Strikes You're In" campaign. If you saw this ad, would you think it's a real McDonald's ad, or a spoof?
I must admit, for a trick to get media attention on the NYPD's Stop and Frisk campaign, this is pretty clever. Now they just need to figure out how to get a massive distribution of the ads printed out so people can pick them up and start using them. On this one I'm with the Gothamist when they wrote they'd love to see people try to cash these in and get the process documented. Maybe a weekend adventure with some friends and a camera…
Here's the link to the website, where you can check all this out for yourself. I have to admit, whoever did this is pretty clever, and has some good social media hacking skills as well. How others will respond to this ad remains to be seen. Colorlines also has some coverage on this issue from earlier today, including some response details from the NYPD, which seem to suggest they are the ones that had it taken down…
Until next time…Would you like that Supersized?
###