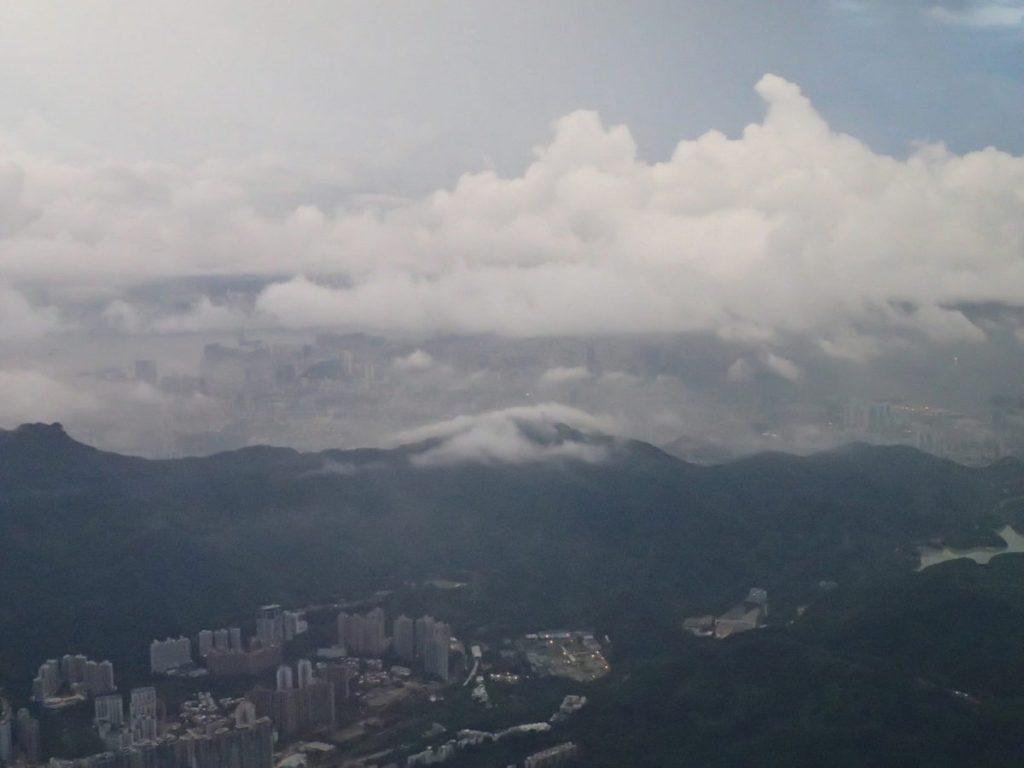 So I finally made it into Hong Kong this morning, somewhere about 6AM local time. So far the trip has been far less scary than I had imagined, mostly because I'm a very timid traveler. For being a loner in general, I did sorta wish I had some traveling companions. Fortunately I will soon.
Here are some of the pictures from my Cathay Pacific flight coming into HK.
A few initial thoughts.
All Airplanes Are Not Equal
I love Cathay airlines! Descent seating space in economy, two meals, and in-seat media. Wow. I've been so used to the crappy offerings of United Airlines that I almost thought that all airlines were like this. And the food was actually half-descent, given that it was microwaved airplane food.  And they gave us these funky little spoons that I have never seen before, and still am not sure what they are for. I think they are for coffee or tea, but not sure.
HK MTR – Almost like NYC MTA
It was amazing how much the HK subway system is like the NYC system, from the signage to the layout. I was really worried about getting around at first, but between the dual Chinese/English signage and the similar designs, it was much less worrisome than I had imagined.
Yesinn Hostel
It's been a while since I stayed in a hostel, mostly because it has been a while since I traveled anywhere where I needed a hostel to stay. The feel here is great–chalk signatures and messages all over the ceiling and a few other places, a nice couch lounge area with a small kitchen, great wi-fi and top-10 music (ok, so it's not all super

. But seriously, as far as hostels go, so far this one is great. And it's mostly young folks here, with a huge amount of Australians for reasons that I don't understand. Perhaps it's a proximity thing? Also met a Japanese Brazilian, an American teaching high school in Shenchen, someone from the Netherlands and also from Malaysia. As always, hostels are an adventure unto themselves.
Well, now I've checked in and need to go explore my room and then go find something to eat and wander around, as I've been hanging out here in the hostel since early morning waiting to check-in. Need to go out and explore–I didn't come all this way to sit in a hostel all day!
Until next time…time to go explore.
###
Related posts
coded by
nessus
One Response to "Goodbye USA, Hello Hong Kong"
Adventures of Mr. Chris » Blog Archive India China Reflections - Pt. I » Adventures of Mr. Chris Says:
July 31st, 2013 at 11:39

[...] were also students in the ICKCBI summer program I am running. You can read about my adventures in Hong Kong here and here and here, and Beijing here, so I won't rehash them all [...]
Leave a Reply